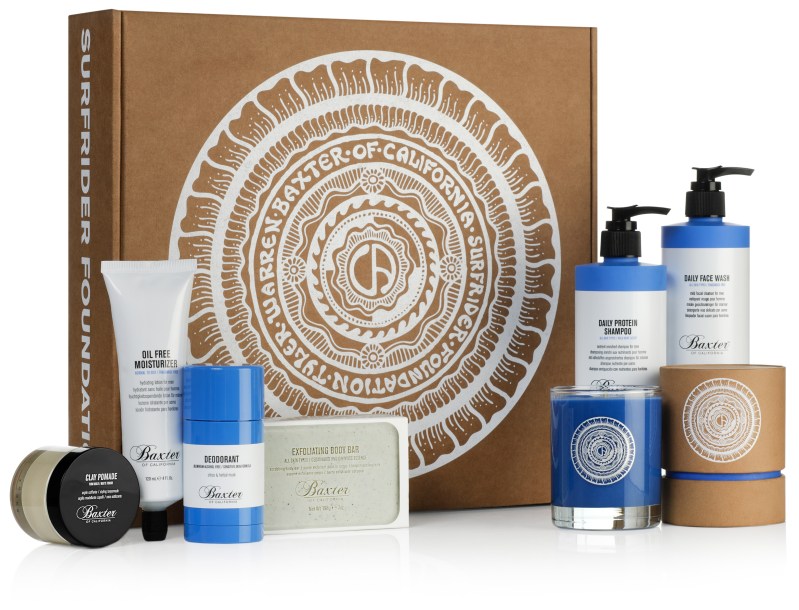 Grooming brand Baxter might seem like it was born yesterday. It's that fresh. But this company has been around for a half century. Let that sink in. They've been in the grooming game since dudes thought it was acceptable to use a dingy bar of soap to wash from head-to-toe (okay, some till do).
To fete its major milestone, Baxter has assembled its greatest hits and wrangled artist and surfer Tyler Warren to design a box to hold all the goodies. Warren is a bit of a Renaissance man by way of California. In addition to his illustration talents, which are exhibited on the collectible case, he's a graphic designer, painter, shaper of surfboards, and, of course, world-class surfer. The concentric circular design he's created exclusively for Baxter is vaguely tribal and also sort of reminiscent of Mr. Zog's Sex Wax making it perfectly fitting for the brand's SoCal roots.
In the Best of Baxter Box, you'll find cult classics like Clay Pomade and Oil-Free Moisturizer, old standbys Daily Protein Shampoo, Daily Face Wash, and deodorant, along with the new favorite Exfoliating Body Bar. And to round out the collection there is a limited-edition candle, created to honor the brand's charity partnership (a first for them) with Surfrider Foundation, a non-profit that works to protect the world's oceans and beaches. Its scent nods to the organization with its Pacific Ocean inspired fresh marine notes and the glass is etched with Warren's illustration, which makes it perfect for stashing stuff when the candle burns down.
And you get all of that goodness for a Benjamin. But another reason to scoop up the set is that ten percent of sales goes towards the Surfrider Foundation's sea-saving campaign. So you and the beaches will look better for it.
Editors' Recommendations