The Internet basically handed everyone a megaphone and said "Go forth and give your opinion on literally everything!" In some ways, that's awesome. In other ways, it can crowd and confuse things, like restaurant reviews. Renzell is a new data-driven rating system that carefully curates and weights wide-ranging, informed opinions into unbiased information to give you the best dining experience possible.
It's perfectly natural to turn to reviews to help find the best restaurants, but with some websites it's not always clear who is doing the rating. Some sites encourage people to review the reviews, creating an environment where people may choose to write outlandish things, exaggerate, or excoriate a restaurant or meal simply to be better ranked personally. The truth is, everyone may be entitled to an opinion, but not all opinions are created equal.
Renzell eliminates these problems. It's the brainchild of tech genius Bo Peabody and a media executive-slash-entrepreneur named Jacob Lewis. They've created a member-based rating system that employs a highly sophisticated algorithm to objectively score restaurants based on detailed feedback. Instead of giving a place a three stars (which means what? One man's three star meal is another man's five star), because the server didn't smile quite enough despite the food being phenomenal, Renzell asks for feedback on the entire experience. Eight categories are used to capture the full event: design, hospitality, food, service, value, vibe, cocktails, wine, beer, and sake.
Here's how it works: members of Renzell will take the survey after the meal and the proprietary algorithm will use those millions of weighted data points to find trends and preferences. Each restaurant will receive an overall ranking on a 100-point scale in addition to individual scores for each of the eight categories. They're also then ranked among restaurants in the same city. To ensure they're getting and using the best data possible, Renzell employs KPMG, one of the powerhouses of auditing, to make sure they're doing everything right. With Renzell, reviews are about as unbiased as a collection of opinions will ever be.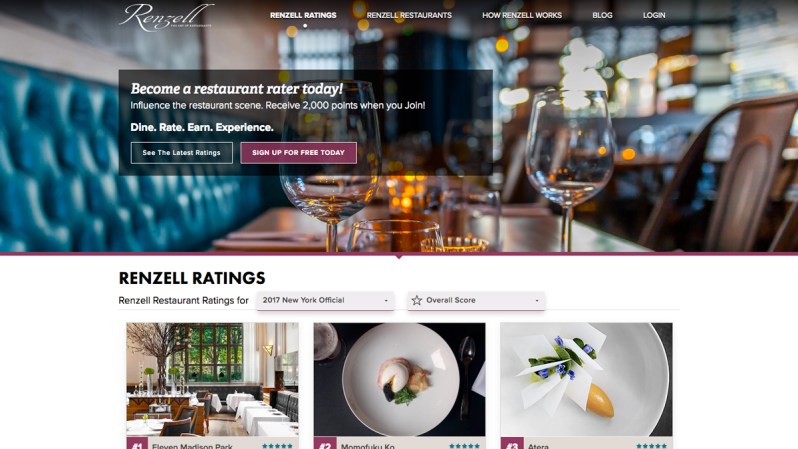 It's competitive to even be considered to be reviewed by Renzell members. A potential listing must be over a year old and is subject to 32 characteristics to see if they even make the cut. But anyone can be a member, though they do some vetting to make sure survey takers have no ties to the restaurant or restaurant media. There are also a number of benefits to being a member of Renzell in addition to knowing all the best places to go. Five levels of membership, based on points you earn for taking surveys, offer a wide variety of perks: everything from three rides in Lyft from the restaurant, to gift bags, to attending the Renzell awards ceremony.
Currently, Renzell is in 11 cities: Los Angeles, San Francisco, Seattle, Denver, Dallas, Chicago, Boston, Atlanta, Philadelphia, Washington, DC, and New York. Don't see your city on there? Not to worry– they're ever expanding, adding new cities every year. They've released a taste of their official rankings for 2018, showcasing places like The Lawrence in Atlanta (95.62/100), Grace in Chicago (95.10/100), Momofuku Ko in New York (93.63/100), Maude in Los Angeles (95.96/100), and minibar in DC (96.45/100). They're highlighting some really exciting new places.
Renzell is a review system for and by people who are passionate about food and a great experience. Not someone trying to out yell all the other megaphones.