The results of an Oregon investigation last week surprised absolutely no one when it revealed that some of the top dogs of the Oregon Liquor and Cannabis Commission have been storing some of the best bones all for themselves.
According to an investigation obtained by Oregon Live, it turns out that six officials of the Beaver state's liquor commission have been carefully and quietly intercepting secret bottles of high-end liquor on the sly, hoarding them for themselves instead of releasing them to the public. Many of their shady transactions had to do with the rare little darling of the liquor world, Pappy Van Winkle's 23-year bourbon.
Nearly unattainable, highly sought after, and extremely rare, Pappy Van Winkle's 23-year bourbon has become somewhat of a holy grail to bourbon lovers. Not only is its flavor unparalleled, but its exclusivity has made it a symbol of wealth and power. A symbol that will undoubtedly be only amplified by this scandal.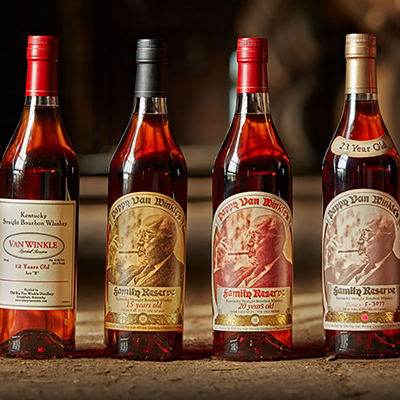 Apparently, bottles were diverted, including Pappy Van Winkle, from a state warehouse to a liquor store near the officials' office. When the bottles arrived, the officials were notified, and they went to purchase them themselves. Pretty clever. Cold, selfish, and horrendously unprofessional, sure. But clever.
You might be thinking to yourself right about now, "Yeah, well, it's shady, but at least they paid for the liquor." But this isn't a crime of thievery; it's one of privilege, selfishness, and abuse of power. It's is in their absolutely peaceful guarantee of something so incredibly difficult to secure for everyone else.
Public demand is so high for these greedily hoarded bottles, in fact, that the OLCC created the Chance to Purchase program, a lottery designed to make the purchasing of high-demand bottles like Pappy Van Winkle fair game. December's lottery included five of Pappy Van Winkle's 23-year bourbon. The odds of winning? 1 in 4,150.
According to Willamette Week, Oregon Liquor and Cannabis Commission Executive Director Steve Marks resigned after the drama unfolded, stating, "Gov. Kotek has requested that I resign from my position as executive director of the Oregon Liquor and Cannabis Commission. Because I believe that the governor is entitled to have her own management team, I will honor that request."
No word yet of an apology. But if privileged men are known for anything, it's taking ownership and responsibility for their actions.
Editors' Recommendations