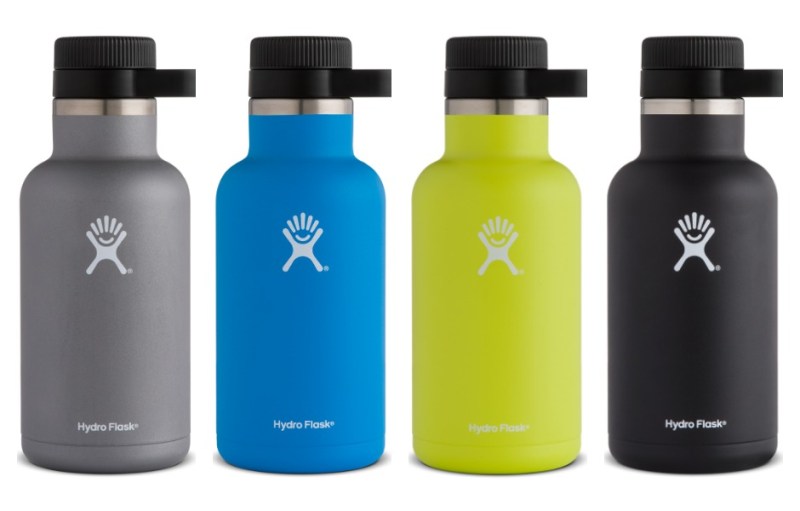 When it's hot out and you're on the go, a growler can be your best friend. Now we bet that a lot of you are asking, "What is a growler?" For starters, a growler is simply a vessel that was used to transport beer freshly poured from the tap at your local pub back to the comfort of your own home. The growler got its name from the loud noise it made from the CO2 as soon as the lid was taken off. They were popular in the late 1800s and early 1900s, but slowly died out as sales of prepackaged beer became more commonplace.
Related: Guide to Growlers
It may be around a century since growlers were first popular, but now, thanks to Hydro Flask, there's a new growler on the market, perfect for bringing beer around with you. Hydro Flask's newest growler is vacuum insulated, and features two full interior threads for a leak-proof seal that keeps the beer's carbonation going for longer periods of time, as well as honeycomb insulation, which is located inside the cap for additional temperature control. It also comes with an easy-carry handle that allows you to hold and pour the growler with ease, an 11 mm lip, which saves your every little drop of beer by reducing the amount of dripping, and it comes in a 32-ounce or 64-ounce size and five different colors. It also has double wall insulation, is made from pro-grade stainless steel and is BPA free.
This summer — or all year round — use the Hydro Flask Growler to carry tap-fresh craft beer from your local brewery or Whole Foods and straight to your own home, where you can enjoy iced-cold beer right from the tap.
For more information, visit hydroflask.com.
Editors' Recommendations