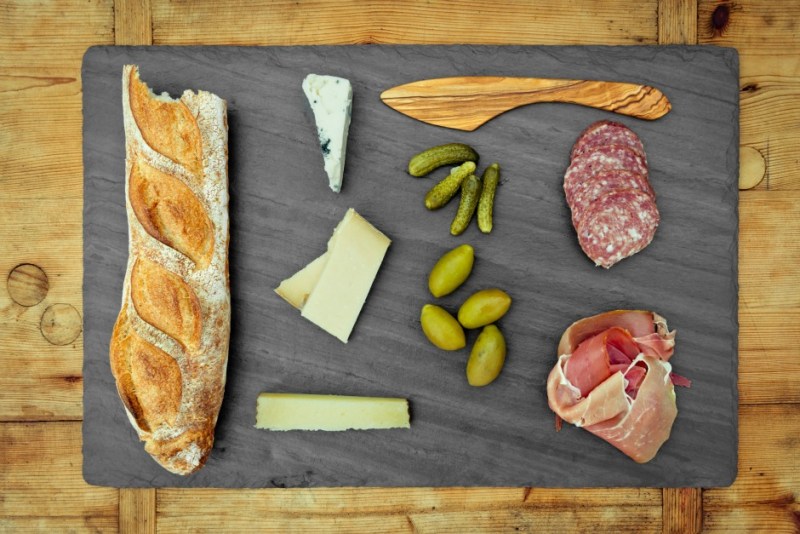 Strong, durable and uncomplicated. That's how Brooklyn Slate Company's co-founder Sean Tice describes slate, a metamorphic rock that he and Kristey Hadeka use for their sturdy cheese boards ($26-$44). Their black and red slate comes from Hadeka's family-owned quarries in the Slate Valley, a 13-mile stretch of land running from upstate New York to Vermont.
"The slate is formed over millions of years," Tice says. "And our quarries use it to make roofing shingles that typically last up to 200 years."  Which means Brooklyn Slate's boards–and placemats ($39) and beverage coasters ($22)– won't wear out anytime soon. Another plus: Stone is resistant to fungus or mold so you won't have to worry about discoloration, a common occurrence in wood products after repeated washing.
When hosting get-togethers, spread snacks onto the spacious cheese boards and arrange in an artful way. Clean-up is simple too. Just wipe or wash with warm water and soap—and Tice says it holds up fine in the dishwater.
Each ruggedly sleek board comes with a soapstone pencil for writing, a burlap bag for storage, and cork feet that adhere under the boards to prevent damage to tables and other surfaces. Want to keep the slate looking polished and brand new? "Put a drop or two of food grade mineral oil on the board every 6 months," Tice advises. "It helps maintain the exterior of the stone and makes it shine."
Every Saturday, Brooklyn Slate hosts tastings at its Red Hook studio where visitors can sample cheeses and other treats. Be sure to check out the company's tasty collaborations with food artisans, including Rick's Picks and Mast Brothers Chocolates. 
Editors' Recommendations