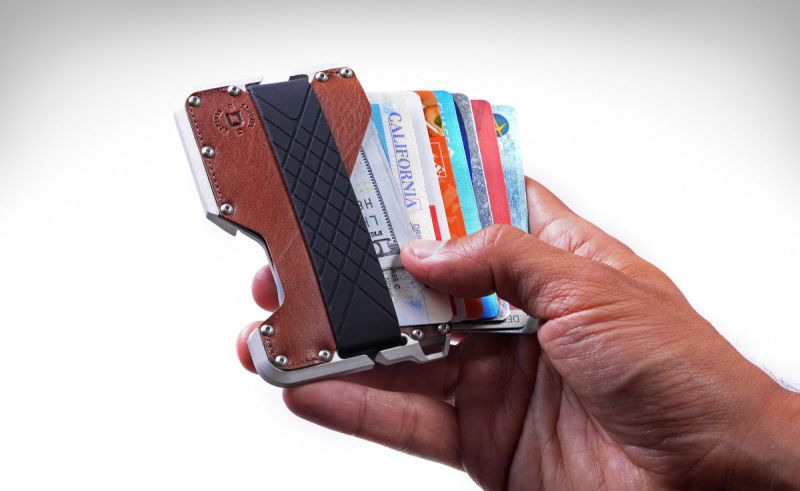 Do you ever have the need for a bottle opener, a knife, a saw, or some other random tool that would help out in a pinch, but found that there's nothing around?
Look no further — the folks at Dango came up with something that provides all those things and more. According to its makers, the D01 Dapper Wallet was designed "to appeal to a user that wants
a wallet that is low key, but exudes style, luxury and a bit of edge." Its handier counterpart, the T01 Tactical Wallet includes a tactical tool with 10 functions: a knife, saw, paracord tensioner, hex wrench, smartphone stand, ruler, bottle opener, nail remover, and more.
Everything is made and handcrafted in the USA and the wallets come in genuine leather in colorways like jet-black and golden whiskey. The special tool is made of aerospace-grade aluminum. It's also super thin, measuring at .3 inches when six cards are stored in it. If you're traveling, simply remove the tool and put it in your checked bag. Need a bottle opener at that party and can't find anything? The Dango wallet will take care of that. Riding your bike around town, and all of a sudden your seat becomes loose? The Dango wallet will take care of that, too. Need to cut off that annoying snag? The Dango wallet will help you out in a pinch. Finally, you don't have to carry around a wallet and a pocketknife. The Dango D01 Dapper Wallet and the T01 Tactical Wallet combines a wallet and a multi-functional tool all in one.
For more information, visit kickstarter.com.