There is a plethora of do-gooder companies out there sending bags to those in need. However, STATE however is going the extra step by filling those bags with nutritional snacks, school supplies, and books —and all for kids right here in America. Praise!
STATE was launched in 2013 by husband-and-wife duo Scot and Jacqueline Tatelman. As founders of the nonprofit Country Roads Foundation — which helps children in New York City — the couple noticed how many kids carried their possessions in trash bags. So, for every STATE bag purchased, the brand hand-delivers a backpack full of essential tools for success.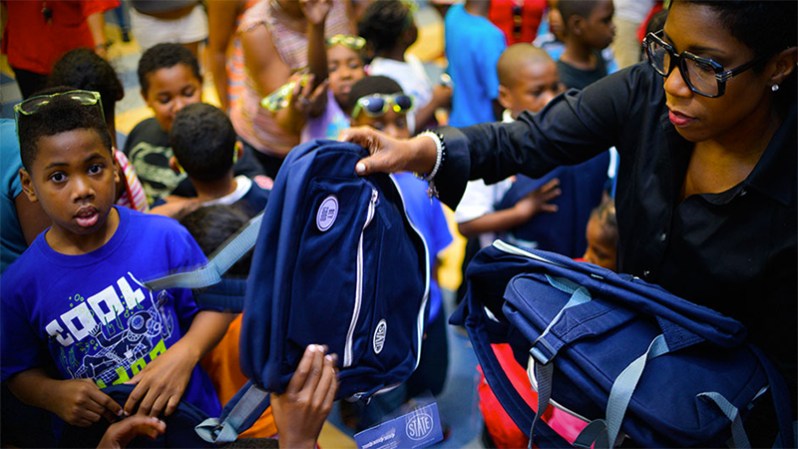 But that's not all! STATE also hosts bag drops where teams of "PackMen" and "PackWomen" lead motivational rallies to boost kids' self esteem and outlook on life. Then there are their collaborations; STATE blew it out of the water with a partnership with Beyoncé's BeyGOOD global charity campaign (kids received a limited-edition BeyGOOD and STATE Union bag with supplies) and another with Bombas socks for Coalition for the Homeless (disenfranchised adults were hooked up with a bag and socks).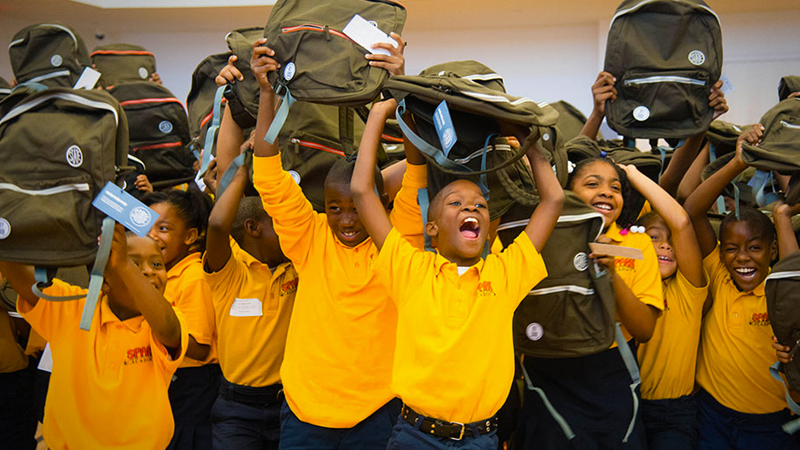 STATE's most recent collaborations are just as exciting. In September, along with New York Yankeess pitcher CC Sabathia's PitCCH Foundation, STATE held a bag drop rally at a Bronx-area elementary school. The kids were given a new STATE backpack filled with goodies. Chance the Rapper has even gotten involved; he and STATE gave over 30,000 backpacks to kids in Chicago through the #GiveBackPack Chicago initiative.
But the Tatelmans aren't just content with providing tangible change. They've also started up a digital space to foster discussion and help explain some of the more difficult and challenging issues facing us today. Fittingly, it's called #WhatDoWeTellTheKids. The first month, October 2016, focused on Black Lives Matter; February 2017 highlighted LGBTQ stories; and April 2017 talked about how we can stamp out the use of "retard" with an incredible film by Emmy award-winner Kat Misko. And August was all about Chicago — that beautiful, underfunded, resilient city.
STATE is more than a bag. This is a movement. This is more than fashion. These bags are statements.
First published by Cator Sparks on March 20, 2015. Updated by Elizabeth Dahl on October 27, 2017.
Editors' Recommendations