Art comes in a multitude of colors, shapes, and forms — just ask San Franciscan Nick Pourfard, the sole founder and primary employee of Prisma Guitars. The 23-year old student and self-taught woodworker has spent the better part of four years transforming thin pieces of wood culled from broken and used skateboard decks into electric guitars, simultaneously trading one instrument of shredding for another.
Related: Out of the studio and into the woods: our favorite backpacking guitars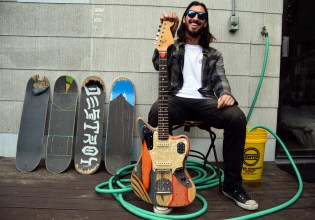 Although Pourfard has long had a resounding penchant for woodworking, he first learned to build guitars via a host of instructional YouTube videos. Today, he continues to tweak and further refine his initial crafting process alongside childhood friend Michael Svendsen — the guy who taught him how to make skateboard half pipes — though, he won't elaborate too much on the process for fear of being copied. However, we do know he hand builds each guitar from start to finish within his garage in the city's Sunset District, carefully taking into account the melange of patterns and colors unique to each board he decides to utilize.
"Just being a skater, you know that the colors [of a skateboard] go all the way through," he recently told San Francisco's 7×7 magazine in an interview. "I figured, what if I could just totally make a normal guitar, shape-wise, and sound-wise?"
The guitar cuts and designs to a cue from classic examples, too. The "Corvina," for instance, was inspired by the the infamous Rickenbacker, while guitars like the "The Duke" feature a mahogany body and a maple top much like the Les Paul of yesteryear. The "Diavolo" takes design a step further, building upon a classic semi-hollow build, complete with three humbuckers, three-way controls, and a volume knob for each pickup.
And if the guitars themselves don't speak for themselves, Pourfard's clients will. Iron Maiden's Steve Harris bought one, as well as pro skater Justin Figueroa, who plays in the acid-rock band Harsh Toke. The $2,500+ price tag might be a deterrent for some, but honestly, did you think buying 15 skateboard decks was going to be cheap?
Check out Prisma online to place a custom order, or to browse the company's excellent collection of electric guitars and related accessories.