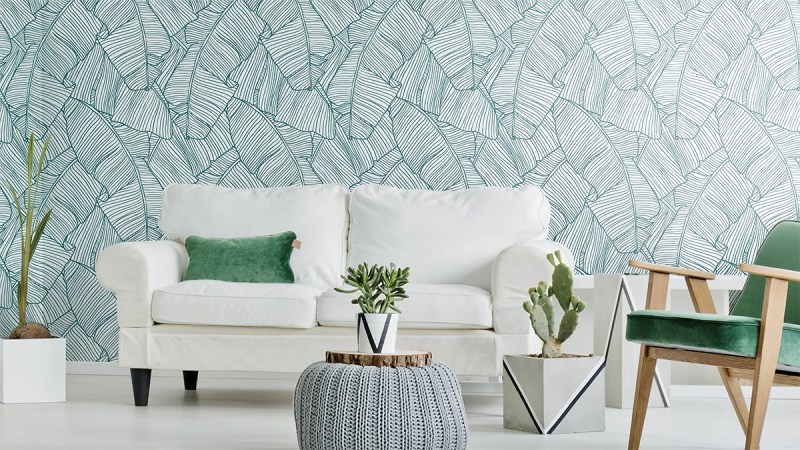 There's a reason wallpaper went out of style in the '90s. Once it goes up, you're stuck with that look until you're willing to invest the time and money into replacing it. If you're like most homeowners and want to change up the style of your space more than once a decade, wallpaper is not for you — or is it?
Enter Walls Need Love, a whole new take on wallpaper that will have you rethinking this dated material. The products are not only stylish, they are reusable and able to be switched out as often as you want. A special adhesive backing goes on easy and comes down clean. Bonus: Reusable wallpaper can be put up by just one person. No more sponges, glue, and three-person teams. No more living with the look for the rest of your life.
Located in Nashville, Tennessee, Walls Need Love carefully curates a stylish collection and sells direct to the consumer, so there's no middleman showroom taking a cut of the artists' profits. The brand has been creating adhesive wall decor for nearly a decade, revolutionizing the removable wallpaper market. While other companies may offer a similar product, none can be reused as often and easily as Walls Need Love's. Made from woven polyester, the wallpaper is super durable — it won't rip, crease, or tear.
Not only is it a sturdy product made right here in the U.S., but the patterns and designs by independent artists are on trend. From nautical to Art Deco to geometric, there is a wallpaper for every taste. Walls Need Love even offers an Easy Stripes series which makes creating a striped focal wall a breeze. No more painstakingly taping off walls for painting — just line up the rolls and apply, and you've got a stylish striped wall in no time.
Walls Need Love also provides wall murals and decals. The decal selection includes Southwest-inspired cacti, rustic-style split logs, even a line of Banksy images (because who doesn't want a Banksy on their wall?). The murals are equally as varied, showcasing everything from nature scenes to cityscapes to faux brick walls for that urban loft look.
The pricing on Walls Need Love products is on par with standard wallpaper, but the fact that it is reusable adds value — you can take the look you love with you to your next place or switch it out between rooms, reusing it as often as you want.
Editors' Recommendations