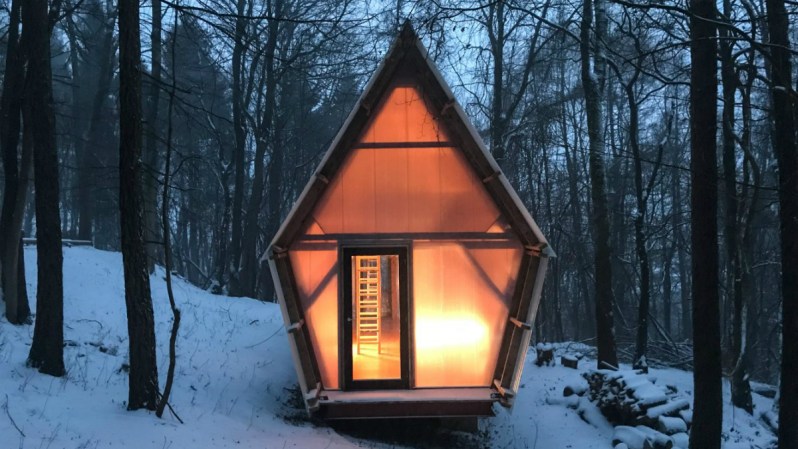 Have you ever been sitting in your tiny cabin hidden away in a forest on a mountain and thought, "I'd rather be sitting in my tiny cabin in a forest by a lake?" If so, congratulations — first on having a tiny cabin and, second, for having the audacity to even contemplate moving an entire building down a mountain.
With this prototype house created by Invisible Studio in the United Kingdom, you can finally have your cabin and move it too.
Designed to be legally driven down the highways and streets of the UK, the cabin sits atop a frame that features a wheeled "bogey," which can be removed from underneath and stored when not mobile. In fact, when building the cabin, the crew drove the cabin's base to the building site, removed the bogey, and then used the bogey to move all the rest of the necessary building materials back to the site.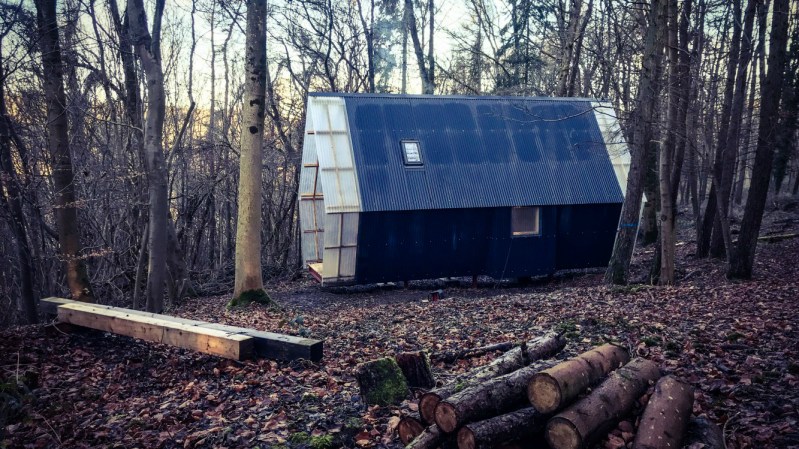 The tiny structure, which is actually dubbed the ungainly "Trailer (Equivalent #2)," is built almost entirely out of leftover or waste materials. On the exterior, this little geometric beauty is clad in corrugated fiberglass and steel, keeping the cabin lightweight and strong, while the interior walls are faced with previously used shuttering.
The light color of the interior walls is amplified by the translucent gable ends of the cabin which are constructed out of both high performance interlocking polycarbonate. The frame of the building is made up of cross-laminated wood made in-studio from the forest surrounding the design team's own studio (and which they manage carefully).
The doors were found in a dump, the railings are made from re-used rope from a previous project, the light fixtures were damaged and repaired for reuse, and the insulation was completely scavenged.
While this tiny cabin was only an initial experiment for Invisible Studio, it serves as proof of concept that a cool, functional, and mobile tiny cabin is possible, but it might just take a couple of trips to the dump to finish it.
Not looking to move your cabin anytime soon? Don't have a cabin? Let's fix that with this A-frame tiny cabin kit.
Editors' Recommendations