Yesterday was Memorial Day, and in case you're gotten your military holidays confused, Memorial Day is the day we honor those who fought and died for our country. As military holidays go, it's a very somber one for many families who have lost a loved one to combat or in other service to the United States.
Motorcycles have played a role in the military since… well, there were motorcycles, from the Harley-Davidson WLA machines in World War II to the diesel-converted Kawasaki KLR650 variants currently in use today by our fighting men and women in the Marine Corps.
After World War I and II, Vietnam, Desert Storm and the wars in Iraq and Afghanistan, when service members returned to civilian life after months or years of harrowing duty, many found excitement – and solace – by throwing a leg over an iron horse and plying the wide open spaces of America and the world.
In 2005, a number of motorcyclists banded together to ride to the funerals of soldiers who had been killed overseas in Afghanistan and Iraq. Why? A certain organization which will receive no publicity here had been showing up to make an ignorant and offensive protest statement at the funerals of these brave men and women.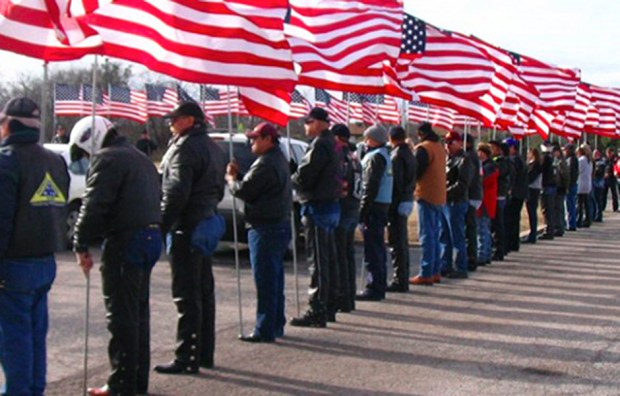 The motorcyclists, known as Patriot Guard Riders, positioned themselves between the protesters and the grieving families, drowning out and blocking the protests with large American flags, by signing patriotic songs or with, shall we say, some mechanical acoustics courtesy of their machines.
Considering that many Patriot Guard Riders are or were combat veterans themselves, suffice to say the protesters rarely challenged the blockades. But from that kernel, the Patriot Guard Riders organization quickly grew.
Today, there are over 200,000 members of the Patriot Guard Riders spread across the nation. They often refer to their group simply as the "PGR." Their duties have expanded from riding in honor of fallen service members to also honoring fallen firefighters, police officers, the anniversary of 9/11 and honoring others whose families request their presence. You can easily identify them by their triangular folded-flag logo trimmed in safety yellow.
Indeed, the PGR will only attend a service if invited, they don't show up willy nilly at funerals. But it's not all funerals for the PGR; they also stand as an honor guard for soldiers safely returning from active duty, often to the delight of family, friends and those returning from duty. But again, they have to be invited.
There's no specific criteria for joining the PGR, as they say on their website, "the only criteria is Respect." You don't have to be a veteran and indeed, you don't even need to ride a motorcycle, you just need to be dedicated to the cause of honoring those who have served. There are plenty of opportunities to serve and help PGR members who silently stand as flag-bearing honor guards during funerals and other services, as they silently stand guard for the duration of the service no matter what the weather.
But if you ride and wish to join the PGR, be prepared to modify your bike so that you can ride while a 3 by 5 foot American flag is mounted to the back of your motorcycle, and it can be any type or brand of motorcycle, although, as may might imagine, many – but not all – PGR riders are on American-made machines.
The Manual and this author wish to thank all those who have served this country, and especially the families of those service members who have given the ultimate sacrifice for our freedom and safety.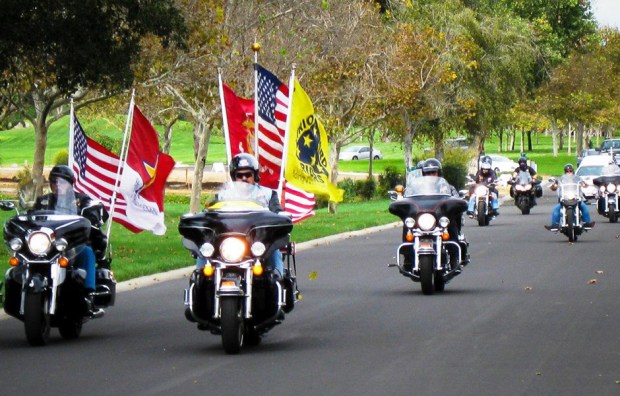 Editors' Recommendations