Back in 1977, Harley-Davidson was at a low, low point in their storied history. Bowling-ball maker AMF owned the brand and didn't seem to care too much about it. At the same time, the world was absolutely swimming in low-priced bikes from Japan, and those cheap bikes were also faster, more reliable and more technologically advanced that H-D's staid stable of oil-leaking relics. Quality at Harley-Davidson was low. Morale was lower. Harleys were widely regarded as bikes only for tattooed True Believers (aka: bikers) and the rest of the motorcycle world was passing it by. Quickly. The future was not looking very bright.
In a bid to punch up sales and appeal to a wider and more mainstream demographic, Willie G. Davidson, Harley stylist and grandson of one of the company's founders, penned a forward-thinking, Sportster-based 1,000cc machine with a blacked out, rakish body and go-fast bits like triple disc brakes, solo seat, a slick little bikini fairing and some curvaceous exhaust plumbing. It was called the XLCR and some say it was modeled on one of Willie G.'s personal custom bikes. But almost from the start, it was better known as the Harley Cafe Racer.
The Cafe Racer was met with almost deafening silence on the sales floor. Not only was it outside the lines of Harley's dedicated customer base, it was still saddled with all the problems that were keeping H-D from catching up to the competition: way too much weight, not nearly enough power, abysmal handling, organ-failure levels of vibration, ancient technology. Even the gas cap tended to leak. Two years later, the coffin on the XLCR closed. Even the ad campaign seemed to miss the mark. Caviar, anyone?
A short time after the XLCR disappeared, Willie G. and a number of H-D brass bought the nearly-dead company back from AMF and retooled the business model and mechanical bits. The rest is an American turnaround story of legendary proportions.
An odd thing happened along the way, though. The bastard child XLCR passed from footnote to cult status, with clean examples today going for huge sums – far, far more than the (steep for the day) $3,600 it cost brand new in 1977.
At long last, Harley-Davidson has resurrected – for the most part – the XLCR, but now it's called the Low Rider S.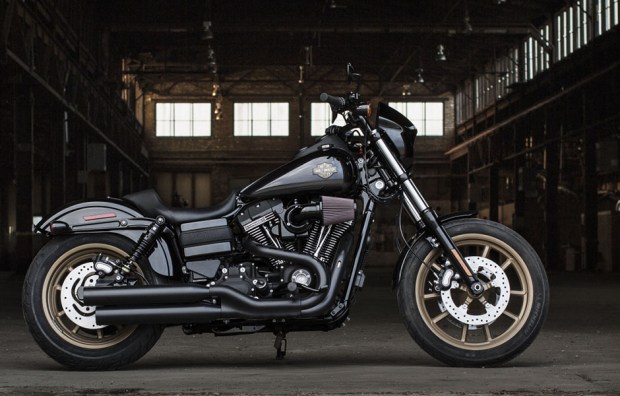 This time around, the Cafe Racer/Low Rider S is part of the Dyna or "FXD" family, so it's not called an "XLCR" (the original bike was part of the Sportster or XL line). And truthfully, the Low Rider S is more of a close cousin than some updated Cafe Racer clone.
The Low Rider S harkens back to the XLCR in numerous ways, and doesn't in others. Like its famous uncle, it's all black with cast wheels. The design is very minimalist and sports a solo seat along with triple disc brakes. A replica tank badge lifted from the XLCR rides on the more-bulbous 4.7 gallon tank. A tiny fairing is also included, but it's more of a Brazilian than a bikini. Also, the rear section retains the usual curved Low Rider fender section instead of the CR's sleek tail. So, no, not a replica. Definitely a strong homage, though.
Fortunately, the new Low Rider S has exorcised all of the demons that plagued the original Cafe Racer. The leaky 57hp 1,000cc 4-speed Sportster lump powering the CR is now a hulking Twin-Cam 110-cubic inch (1803cc) monster with a six-speed box, 115 foot-pounds of torque and nary a drop of oil in sight. On top of that, H-D has added some hot sauce for the "S" in the form of a house-brand Screaming Eagle "heavy breather" intake kit for even more power than the typical 110 makes. Combustion comes from digital fuel injection instead of a finicky carburetor.
While a wide rear tire is still a somewhat silly indicator that you're on some kind of bad-boy cruiser, the LR-S eschews posing with rational and even sporting rubber on its gold-tinted wheels, which are stopped by triple discs like the old CR, except the front binders are now the modern floating type and you get ABS in the deal. Twin rear nitrogen gas-charged emulsion shocks and a "right side up" cartridge fork provide suspension; both are upgrades over a standard Low Rider's legs.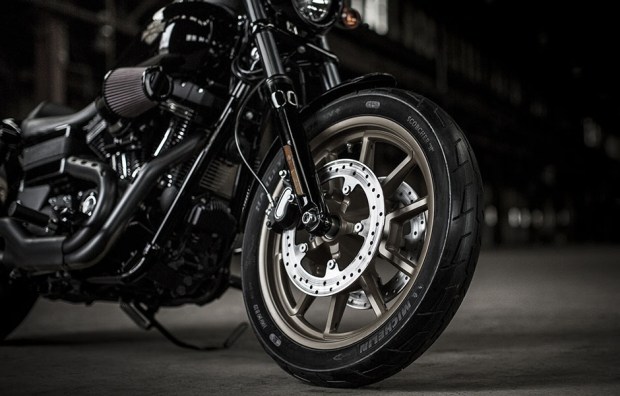 The LR-S also retains the regular Low Rider's tank-based gauge placement, which is a bit disappointing for a sporty bike trying to channel its historical ancestor, which properly had clocks on the handlebars inside that slick little fairing. If anything, the tank gauges leave the flat handlebar looking clean or give you place to put your radar detector. Thankfully, you do get an actual tach below the speedo, along with LCD panels that keep you up to date on no small number of data points. Peg placement is amidships instead of stretched out ahead of the engine. Thank the maker. Also, cruise control is standard on the LR-S.
As indicated earlier, the LR-S has a wee fairing/bug screen, but it's too small to protect your or anything else from…. most anything. Here's hoping a proper replica XLCR-ish "cafe" fairing pops up in the options list. If not, there's the aftermarket.
Finally, the circuitous left-right exhaust plumbing of the original CR is gone, replaced by a much more sano (but still all-black) 2-2 setup that exits stage right. While it looks great and probably sounds…. fine, I'm sure it'll be the first thing owners pitch as they personalize their LR-S.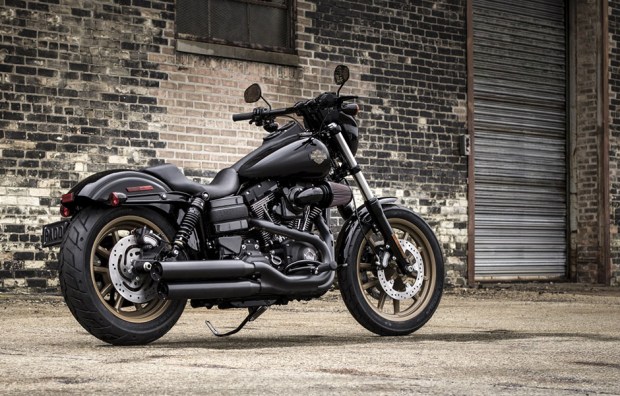 The look of the blacked-out Low Rider S truly is striking, but not radically so in the same way as the original CR. It looks fast… sort of. It's definitely stripped down, as it should be. And it looks to be fairly comfortable, something riders of the original would probably only say through gritted teeth as they pried themselves off the thin seat and numbing bars of the paint-shaker XLCR.
Look, this isn't a Harley sport bike. They've been there. Several times. To no avail (although that is somewhat debatable). It's a very sporty cruiser, a more-capable muscle bike. I rode the regular-flavored Low Rider recently and enjoyed it immensely: surprisingly fast, unexpectedly agile, truly comfortable, a joy to be on all day long. But are you going to give a Ducati fits in the twisties on it? No.
The Low Rider S is meant for riders in a special but growing niche: riders likely coming from pure sport bikes who now want a Harley, who want that look, sound and mystique, but also want more performance, stronger braking, some decent lean angles – and no bullshit.
In that regard, the Low Rider S looks to be right on target and truly fulfills the promise of its inspiration, the ignored but now revered Cafe Racer, the bright light from those dark days so many years ago.
We're working on getting some seat time on the new Low Rider S when it becomes available in the next few months.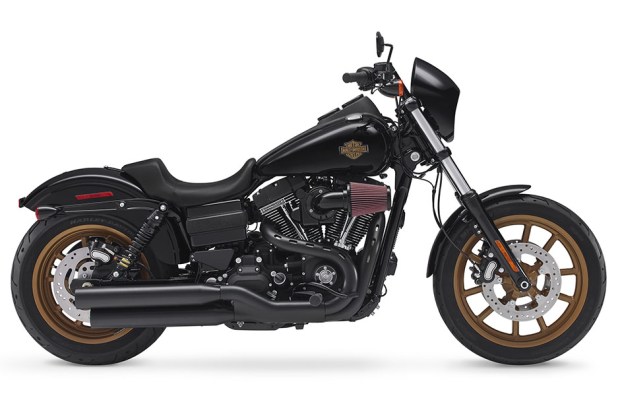 Photos: Harley-Davidson