Man isn't meant to stay indoors — our weekly "Trekking" column can attest to that. It's a column dedicated to the adventurer inside of all of us, the one pining to ditch the office humdrum for a quick surf session or seven-week jaunt in the Grand Tetons. One day we may highlight an ultra-light stove and the next a set of handmade canoe paddles. Life doesn't just happen inside the workplace, so get outside and live it.
Fly fishing is a simple sport in many respects, sure, but toting a three-piece rod and behemoth reel with you when hiking or backpacking is easier said than done. The job becomes even more burdensome with the addition of a box of flies, not to mention knives, nets, and any other equipment you simply can't live without. Thankfully, the fine folks of Tenkara Rod Co. build excellent telescoping rods that are perfect for the streams of Driggs, Idaho, or anywhere else you might want to take them.
Related: The aptly-titled Fly Wallet lets you stash your flies with the utmost style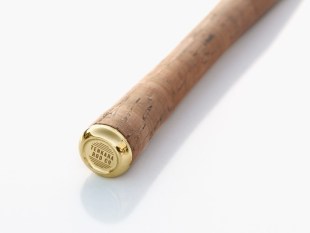 Tenkara Rod Co. doesn't pride itself in one, catch-all model. The Idaho-based company manufacturers a host of rods and related accessories, from the playful Sawtooth Rod ($130) to the Owyhee Rod ($160), the latter of which is the company's biggest yet and one poised to lure in some of the biggest, baddest lunkers available at your disposal. The lightweight, 4.4-ounce rod revels in simplicity, offering 13 feet of length when fully extended and a mere 21.5 inches when closed. The ultra-resilient piece of gear is also named after the Owyhee River in southeastern Oregon, and as such, it just so happens to sport the green-and-gold color scheme of its alma mater (i.e. the Oregon Ducks). Other highlights include a basic walnut spool in place of a reel, swivel tips that help keep your line from tangling, and a single-strand line with tippet ring. The lifetime warranty is just a plus.
Check out Tenkara Rod Co. online to make a purchase, or to browse the company's resounding selection of rods, flies, lines, and other fishing-centric wears.