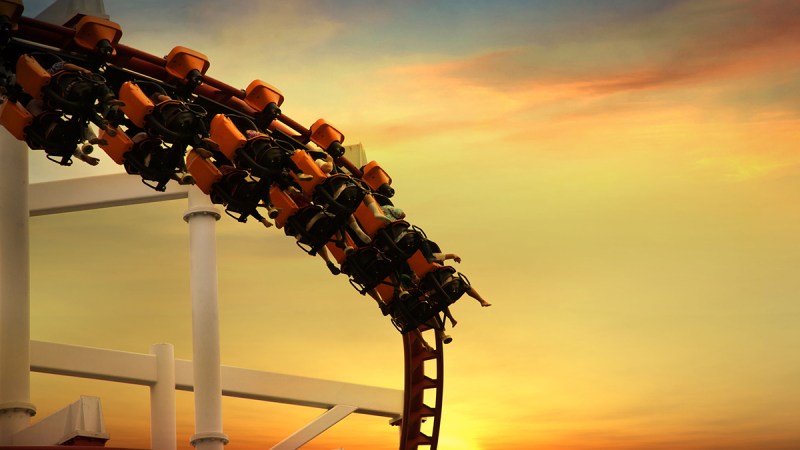 If you crave the thrill of high-heights, tremendous speed, and sudden extreme changes in direction — you need to visit one of the tallest roller coasters in the U.S.
Roller coasters, quite literally, scream summer excitement. From tall-standing loops, top-tier speed, and insane drops from heights over 400 feet, there's no wonder why some people are terrified of this true test of dignity.
For those thrill seekers who love to experience the jerking joy of a roller coaster, hold on to your hats because we've compiled a list of the tallest roller coasters in the U.S. for you to cross of your list.
Height: 456 ft.
Location: Jackson, New Jersey
Six Flags' Kingda Ka is a shoe-in for the first spot on our list, seeing as it's the tallest roller coaster in the world and the fastest in North America. It's a full 90-degree angle up the coaster, followed by a wicked 270-degree spiral that is not recommended for your faint-stomached friends or too-scared-to-go bros.
Height: 420 ft.
Location: Sandusky, Ohio
At a towering 420 feet, Top Thrill Dragster is the first of two tallest coasters located at Cedar Point. On the Dragster, riders will reach speeds up to 120 mph as they barrel down the corkscrew drop into what looks like an unforgiving forest — then you're done. 17 seconds of pure adrenaline.
Height: 415 ft.
Location: Valencia, California
If you're looking to escape the depths of Krypton, Superman-style, search no further. Superman: Escape From Krypton is only the third tallest roller coasters in the U.S., but you better be prepared to be launched backwards at 100 mph and straight up to a 90-degree vertical angle over 400 feet in the air.
Millennium Force, Cedar Point
Height: 310 ft.
Location: Sandusky, Ohio
Formerly known as the world's fastest and tallest roller coaster, Millennium Force is stouthearted, steel coaster that's been thrilling riders on a two minute journey through hills, lagoons, and tunnels since its opening in 2000. There's nothing quite like the stunning view of Lake Erie this beast offers; let's just hope you can handle the height of the world's first giga-coaster (a roller coaster that's between 300 and 399 feet tall and completes a full circuit).
Height: 325 ft.
Location: Charlotte, North Carolina and Fort Mill, South Carolina
Feel "the sting" of Carowinds' Fury 325, dubbed as the world's tallest and fastest giga-coaster, as well as North America's longest coaster made of steel. Following a buzzing 81-degree drop, riders head cart first into a terrorizing 190-foot tall barrel turn at frightening speeds of 95 mph — and that's just to get started.
Height: 208 ft.
Location: Farmington, Utah
Cannibal was introduced into Lagoon Amusement Park in 2015, so it's a fairly new addition to the family of towering coasters. Although it only climbs to 208 feet in height, it's one of the county's most thrilling rides due to its 116-degree vertical free-fall into an underground tunnel and a 140 foot tall inverted loop.
Height: 305 ft.
Location: Doswell, Virginia
Intimidator 305 takes the cakes for being the tallest and fastest coaster on the Eastern seaboard, with a ferocious 85-degree angle drop from 300 feet in the sky, followed by a heap of speedy twists and turns.
Honorable Mention:
Leviathan, Canada's Wonderland
Height: 306 ft.
Location: Ontario, Canada
As an honorable mention, courtesy of our Northern brothers, Canada's Wonderland is home to our final coaster in the (or close to) U.S.: Leviathan. Height and speed is the name of the game for this bad boy, as for many of the coasters on this list, but what sets Leviathan apart from other coasters is it's smooth riding and lengthy track. Even though it will eclipse 90 mph at some points, Leviathan is a silky smooth ride that will make you want to hop right back in line.
Need more? Check out our list of Six Flags Parks in the U.S. that will guide you to the best destination for thrill-seekers.