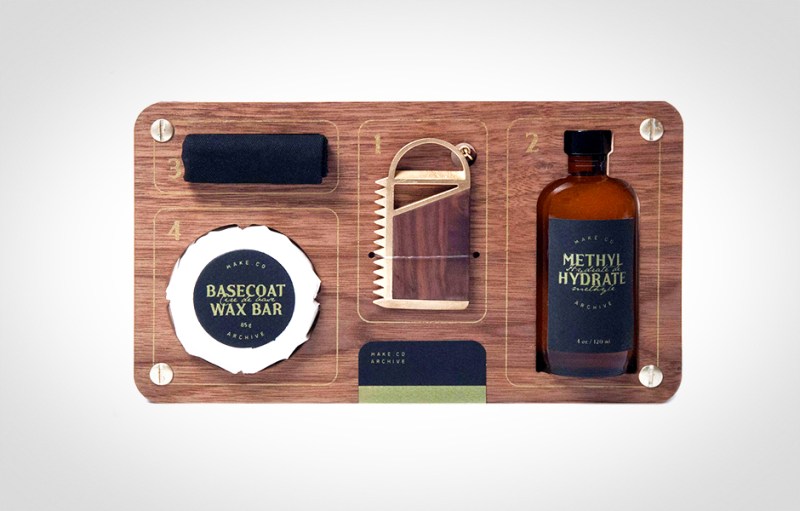 Although there's a good chance that if you're reading this you're probably somewhere that's below freezing right now, but if Instagram and Facebook are any indication, there are quite a few of you right now who are somewhere with surf, sand and sun. Panama, Jamaica, Puerto Rico, Australia and Fiji are just a few of the places that we've come across while surfing through our social media feeds in the past few days. If you're one of those lucky few surfers who are soaking up some rays or if you're about to venture off on sunny vacation in the middle of this horrid winter, then you should look into getting the Surfboard Grooming Kit.
This handy kit is a collaboration between Make Co., Archive and Studio Point, and it just happens to be, as the website refers to it, "the most sophisticated maintenance kit for your surfboard on the planet." Here's what you get with it: a Bronze and Brazilian Lapacho waxcomb, a black cotton cloth, a bar of wax and a small bottle of methyl hydrate so that you can clean off any residue left behind from the wax. Not only does the waxcomb have a leather lanyard so you can tote it around with ease, it also comes with your standard grooves and a scraper, it also comes with something every surfer, no matter what level, needs — a bottle opener, so that you can enjoy a nice, ice-cold bottle of beer after you're finished tending to your surfboard. Oh and did we mention that if you want to get this kit you have to act fast? It comes in a limited edition of 25. So go for it and get it, so that you'll have everything you need for your surfboard in order to catch that big wave.
The Surfboard Grooming Kit, $129 at tryconsult.com.
Editors' Recommendations