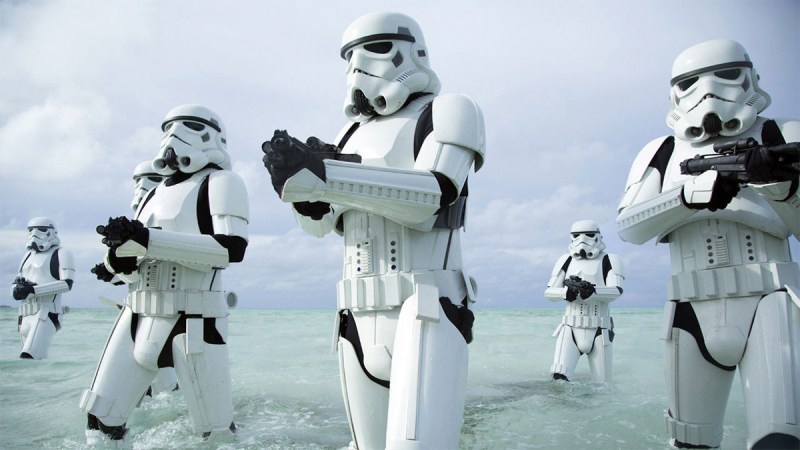 No matter which side of the fence you're on regarding The Last Jedi — best film of the franchise or utter waste— at least we can all agree that these life-size Art Wars stormtrooper helmets that were auctioned on Paddle 8 are out of this world cool. They're also giving us new hope that proud geeks like us can be high-brow art collectors too. (Even the Smithsonian thinks Star Wars deserves a place among the van Goghs.)
Featuring 10 unique takes on the iconic stromtrooper helmet, Art Wars coincided with the premiere of The Last Jedi and offered true connoisseurs a bonafide piece of art that reflects one of the quintessential icons of the Star Wars films.
The unique designs in Art Wars ranged in price from $3,500 for Ben Moore's "Outcast" depiction of the intergalactic mask pressing through a black canvas framed in ornamental gold, all the way up to a mammoth $12,000 for Joana Vasconcelos' woolen crochet helmet. And those were starting bid, gents. Paddle 8 predicted Vasconcelos' resin cast armor to go for over $17,000 or higher (although the auction windows have closed, we can't see what the final bids were).
Other Art Wars artists included Lauren Baker with her transparent neon-lit helmet, Chemical X and its mask comprising of 2,000 fauxecstasy pills, Philip Colbert's "whopper" take, Carne Griffith and the cerebral ink and tea painted eco-perspective of the forces of good vs. evil, Agnetha Sjogren and the melding of colorful comics with the iconoclast shape, and Will Teather's play on military eagles unraveling in a panoramic flock. Meanwhile, masks from Kristjana S. Williams and Dan Baldwin sold out nearly immediately.
The exhibition was curated by Ben Moore and arranged to benefit two Britain-based charities: Missing People, which offers a lifeline to the 250,000 people who run away and go missing each year in the UK, and the Missing Tom Fund, set up by Moore to help raise money to find his brother who disappeared in 2003.
A deeper look at the 10-helmet pop culture project showed this auction was just the tip of the iceberg. Members of the Rebel Legion, brace yourselves, because Art Wars is an ongoing and ever-evolving exhibition of life-sized Stormtrooper helmets that follows the creed: "Turning the Dark Side onto the Art Side." The concept has been building momentum since October 2013 when the first show was unveiled at the Saatchi Gallery with artists Damien Hirst, Jake and Dinos Chapman, David Bailey, Alison Jackson, Joana Vasocncelos, D*Face, Antony Micallef, and Mr.Brainwash
Art Wars is quietly, but quickly, becoming a cultural phenomenon. The embellished, painted, and remastered helmets have been shown at major international art fairs; traveled to Los Angeles, Las Vegas, Dubai, and Sweden; and been showcased across billboard space throughout the London Underground.
And if this is any sign that Star Wars is — and should — remain an art and not a sell-out franchise, well … I'll let you complete that thought regarding the new movie.
Since the auction closed before you could make a bid, splurge on one of these amazing Star Wars gifts instead. If you act now, you can also enter to win a Luke Skywalker jacket.
Editors' Recommendations