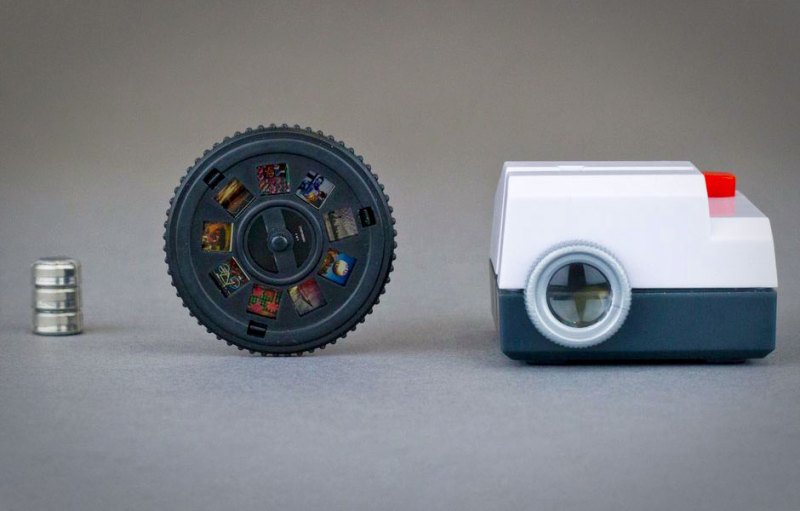 Depending on your age, you just might remember the good old days when you used to view slides on your living room wall. Benjamin Redford came up with a clever little contraption that has updated that old slide projector for the digital era: The Projecteo, a tiny projector made especially for Instagram. Redford had the intelligent idea of putting a cutting wheels from 35mm slide film. Simply make them online and when you get it, pop it into the Projecteo.
Redford kicked off his idea by using a 3D printer to make early prototypes of The Projecteo. "Sure, it was rough and stuck together with tape but it had enough charm to make us fall in love with the idea," said Redford on the Projecteo's Kickstarter page. "We wanted to see how far we could take it."
After, he optimized the focal length of the lenses and added a focusing mechanism and searched for the most powerful LEDs on the market. Once that was all set, Redford  worked with Meso, a Scottish product development consultancy to make the production prototype.
Redford is currently at work on making the app where users can create wheels for viewing fun. Instagram wheels are added on to a single frame of Kodak film and then cut into tiny wheels using their custom-made circle cutter. Now if all goes smoothly, you'll be able to order the first Projecteos come December or January. Now we can have Instaenvy on the big screen. Come back from vacation? Show off your cool Instagram pics on Projecteo! Attend a cool party? Flaunt those snaps on Projecteo too! No matter what the theme or the occasion, you'll be able to use Projecteo for tons and tons of entertaining slideshow nights. we can't wait until we get ours.
The Projecteo, $34.98 at getprojecteo.com.
Editors' Recommendations