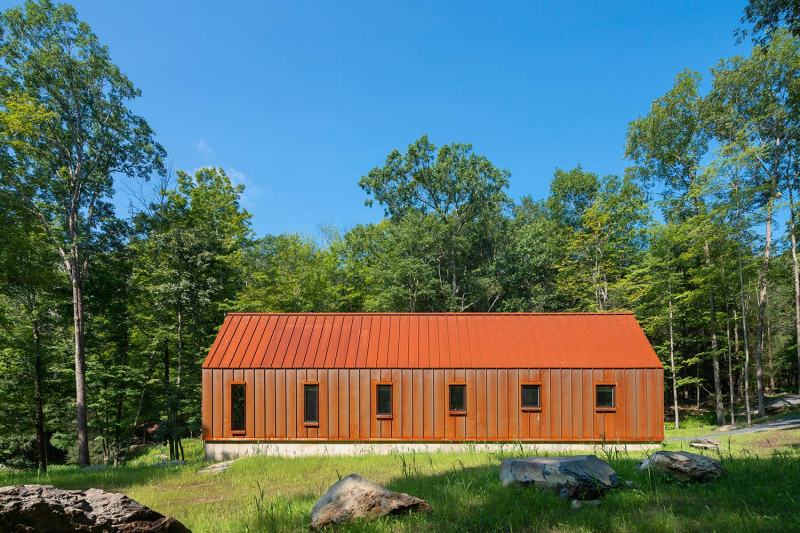 When an architect builds a weekend dream home for his small family, it's expected that it will be an enviable showpiece, full of high-end style and opulent luxury finishes. But that's not what Kyle Page had in mind when he designed Pond House.
From scouting the perfect piece of wooded land complete with private pond, to carefully selected materials, his idea of a dream weekend home is exactly the kind of space we would personally love to escape to.
After finding just the right plot of land back in 2015, Page, principal architect of Sundial Studios, set to work building a weekend retreat where his family could relax, entertain friends, and take in all that nature has to offer. By being both architect and client, Page had creative freedom to do whatever he wanted – something every designer dreams of.
Located on 19 acres, 80-miles north of Manhattan, the design for Pond House was determined by its surroundings. The simple shape of the home was intentional, so as to not distract from the beauty of the water, wetlands, and forest that surround it. Materials were chosen based on how well they blended in with the natural color palette of the land. It resulted in a wabi-sabi philosophy being incorporated into the design.
Wabi-sabi, a Japanese philosophy, is about embracing imperfections and transience into the aesthetics of the world around you. In architecture, wabi-sabi is seen in things like materials intended to age and raw wood shelving – both of which Page used in Pond House.
Outside, there is a distinct lack of landscaping, which should be surprising since Page is married to a senior associate at a landscape architecture firm. But letting the grass grow wild around the house is all part of that wabi-sabi lifestyle. To complement the ruggedness of the land, Pond House is clad in weathering steel, which has already turned a deep rusty orange, and shou sugi ban cedar, the blackened wood showing off all of its wonderful imperfections. At the back of the home, the gabled roof extends out over a rough concrete patio and steps.
Inside, Pond House is expertly styled to create an inviting, cozy, masculine space ideal for unwinding after escaping the hectic city life. Nature is reflected in every corner of the home, from the grass green area rug in the living room to the raw wood shelving to headboards made from sugar maples found on the property. Quirky touches were added to show that a growing family calls Pond House home, including a set of stools scattered throughout that Page made himself. The stools are made from ash trees which had been damaged by emerald ash borer beetles. The paths they carved through the trunks can be seen as patterns on the unique stools.
Despite the small size, Pond House feels spacious thanks to bright white walls, an open-plan family room, and a vaulted ceiling that looks up to a loft space. The home was carefully positioned so that the family room faces south and windows frame views of the pond and the woods. The south-facing wall is all glass, allowing the sun to fill the space throughout the day and letting the family watch wildlife from the comfort of their sofa. A simple wood-burning fireplace adds a gritty touch, which is balanced by contemporary style seating and sleek cabinetry throughout the kitchen and living room.
Raw natural materials, framed views of nature, and a rugged masculine style make Pond House the perfect weekend retreat for a family that is happy to embrace the perfectly imperfect world all around them.
Editors' Recommendations