When you think of architecture in the Czech Republic, gothic cathedrals and quaint red-roofed villages may come to mind. Or perhaps even the famous Dancing House by Frank Gehry. So it seems quite surprising that sitting in the countryside of Pyšely, just south of Prague, is a Japanese minimalist home that — far from out of place — fits right in.
Dům Uhlík, or Carbon House, is the brainchild of mjölk Architekti. When a family of five needed a new home, architect Jan Vondrák looked to their passions for inspiration. They wanted a simple design with an open floor plan that allowed plenty of space for the family to grow. And they had a serious passion for cooking. That's when Vondrák decided to incorporate the ancient Japanese technique of yakisugi to create a truly unique design.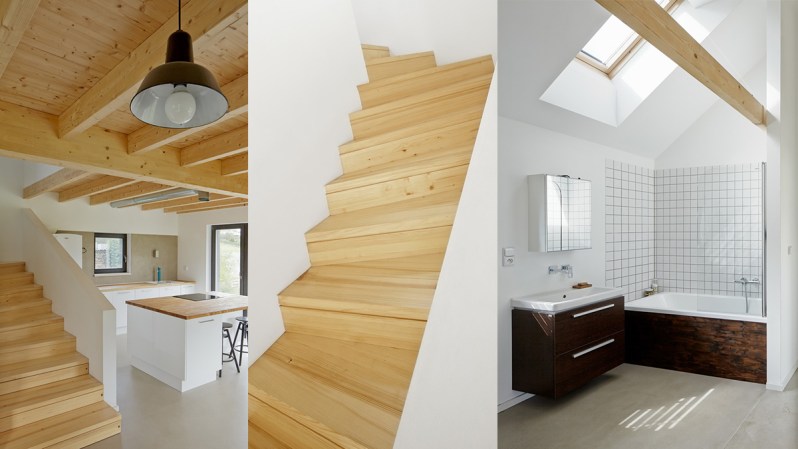 Yakisugi, or shou sugi ban as it's called in the U.S., is the technique of charring wood with fire to preserve it. Typically done to sugi, or cedar, planks, this blackening of the wood ensures it will withstand the elements and also fireproofs it. For Carbon House, Vondrák still wanted hints of the original wood to be seen, adding more depth to the siding and giving a nod to the couple's love for cooking. By only slightly charring the wood, the effect is the siding looks like reclaimed wood, giving the home the appearance of an old farmhouse sitting among the family's vegetable garden.
The dark exterior belies the bright interior of the home. Stepping inside, you find a surprisingly welcoming family room. Light floors, white walls, and exposed yellow oak wood ceiling beams all combine to create a warm minimalist home. The first floor features a series of sliding glass doors that allows the family to open up the space, combining the interior and exterior and maximizing the natural light.
Going up the stairs to the second floor, the minimalist style continues with three simple bedrooms and the bathroom. The vanity and large soaking tub in the bathroom are clad in more shou sugi ban, connecting the exterior to the interior and adding a touch of color to the space. Other than the taupe concrete floors and white walls, the only color in the home comes from the wood accents and a few house plants. A simple home for a family that likes to live a simple life.
Images courtesy of Jakub Skokan & Martin Tuma/Mjölk Architects/DDANN.
Editors' Recommendations