Normally, when a guy sets out to build a treehouse, what results is a nearly-dilapidated fort used as a retreat to read comics and drink beer. When Peter Pichler builds a treehouse, you get an architectural masterpiece that functions as a complete home (heat, running water) with the same old school ethos of disconnecting.
In other words, comics and beers are not only allowed but advised.
Peter Pichler Architecture's (PPA) new project, dubbed "Tree Houses," brings the sentimental treetop garrison of our youth to the elevated, uber-naturalistic plain of posh adulthood. It's ironic how a structure as simple as a treehouse can remind us of the importance to unplug and get back to nature.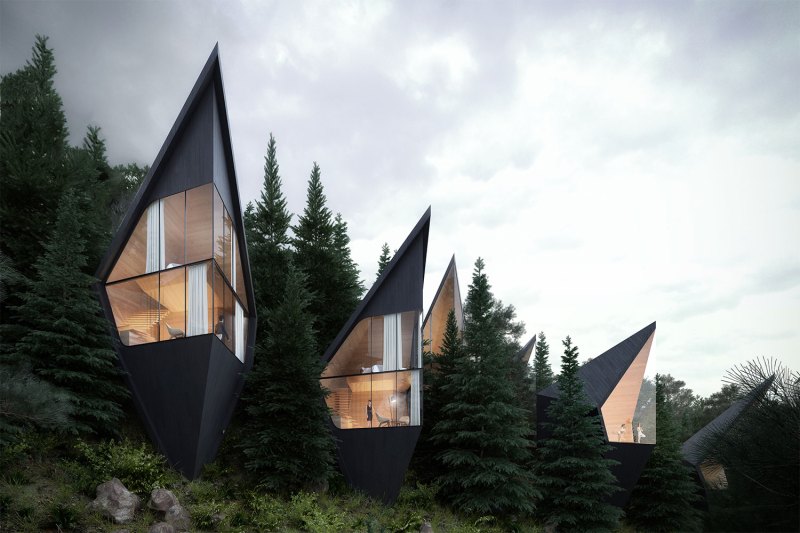 PPA's Tree Houses will take domicile in the Italian Dolomites, accompanying an existing hotel. Sharp, black-peaked roofs jut out from the tree-line like daggers, while complete floor-to-ceiling windows on both stories open the living and sleeping spaces to unparalleled views over the forest. You may have to travel farther than your backyard for these treehouses, but that's what credit card points are for.
Destinations like these Tree Houses, as PPA believes, are the future of travel. They call it "slow down"-tourism— a form and philosophy of sight-seeing "based on the relationship of the human being with nature. Well-integrated, sustainable architecture can amplify this relationship, nothing else is needed."
The increased desire for "slow down"-tourism could explain the popularity of Iceland's Blue Lagoon Geothermal Spa hotel, Russia's far (we mean far) DublDom shelter hotel, and the remote 'Human Charging Station' resort in the mountains of Sweden.
A principle shared among these spaces and their designs is a connection to the local land. The geometry concept for Tree House— its steep roof and wooden material— was inspired by the surrounding fir and larch trees, says PPA. And of course, the wood is locally-sourced.
Keeping with treehouse tradition and nature-minded sustainability, the Tree House spaces are quaint, with a small reading/lounge area on the bottom level and a sleeping area with a small bathroom on the top. A twisting internal staircase connects the two floors.
PPA Principles Peter Pichler and Silvana Ordinas are spearheading this concept, dropping sweet morsels for us common folk to eat up on social media. The result, as we agree, is how soon can we check it? "Epic," "stunning," and "very very cool," are among a few responses PPA received on their Instagram tease. To answer some of the questions: Yes, these concepts could be real, they'll be in Italy, and ditto to wanting a nap in them right now.
Editors' Recommendations