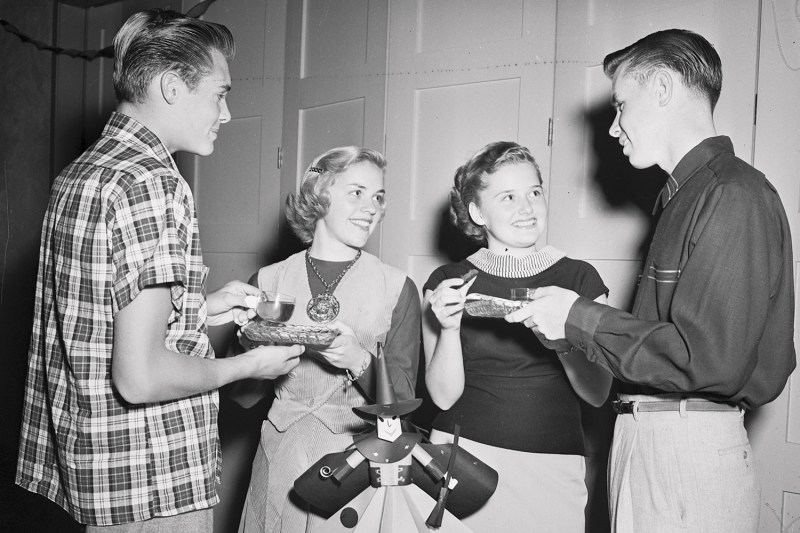 The mood lighting of the average house party is way too bright. Some defenders of this unabashed luminosity say, "It's nice to be able to see everybody!" or "People can't find the food table," etc. And yeah, sure, there are lots of reasonable (often safety-conscious) justifications for firing up every incandescent, halogen, and/or LED bulb you've got when friends come over to have some fun, but once everyone's eaten and the booze-infused blood of your crowd starts pumping, it's time to dim those lights way down and put on some good tunes that help celebrate the inhibition-shedding darkness.
This maximized midnight Spotify playlist billows up from the beats-and-bass-laced shadows of proper house partying. To ensure optimal crowd-pleasing, be sure and go into your advanced settings in Spotify and turn on "Crossfade Songs" (under Playback) to avoid any awkward gaps between tracks as things get bumping; anywhere between seven and 12 seconds will do the trick. Below the playlist, you'll find our top five highlights from the mixtape.
"Good Morning Children" by Alec Troniq
Following the tone setting Solomun remix of "Holding On For Life" by Broken Bells, Germany's Alec Troniq (which is worth saying out loud for full meaning) brings us some bubbly, infectious bass with which to gently bounce in the form of "Good Morning Children." Sampling a warbled and wobbly man singing an actual Australian children's school song, this track gets us right into the groove of where we need to be to get our party kicking into just the right gear.
"Sirens (Mollono.Bass Remix)" by Monkey Safari
Lars and Sven, the Bavarian brothers behind production/DJ duo Monkey Safari, know how to bring some depth and extra layering to their mind-expanding tracks. Combining with Mollono.Bass for this remix of "Sirens" (though I've never heard/can't find the original), this upbeat stylized strummed guitar-driven tune has some real get up and go to it. By the time the gravelly-voiced singer sample comes in, the song is already off to the races at 126 beats per minute (BPM). It should help to inspire even the most downtrodden of your guests to bob their collective heads and improve morale.
"Ducks In The Kiddie Pool (Remastered)" by Click | Click
On the heels of the genre-shifting "Love Haters" by Ru Dupre and the most excellent "When Doves Cry" reworking by YNOT & Cosmo Klein, yet another German artist, Click | Click, helps sustain the big beefy beats with "Ducks In The Kiddie Pool." This track's got down and dirty house party vibes for days and it's near bulletproof in terms of throwing something down to get everyone up and going. I've been trying to figure out the origin of the botched vocal sample that doesn't quite get the song title correct (MC Paul Barman? Spose? Watsky?). Regardless, how can your crowd not bounce to this?
"Bass Down Low" by Illusionize & Victor Lou
The refrain of this Illusionize track feels lifted from the license plate frame of a weapons-grade subwoofer celebrator that we can heavily relate to: "I like my beats fast and my bass down low." And the sheer audacity of said bass in this killer tune is the kind of thing you might have to keep an eye on if your neighbors are finicky about bass tones seeping into the subsonic drywall-rattling nether regions of your place. Mind you, I personally find it incredibly cathartic, though I think the old adage goes: one man's deep end bass is another man's sleepless night.
"Till The Light (Original Mix)" by Lee Foss & Infinity Ink
Lee Foss has got the magic touch when it comes to crafting rock-solid tunes with all manner of catchy vocals and hooks baked into them. "Till The Light" is yet another hip-shaker with a proper pop rocking chorus spiking the dance's punch bowl. Churning and bubbly yet brimming with both the nitty and the gritty, "Till The Light" is deceptively delicious. It also marks the transition from the bigger bass tunes to the more deep and sexy house tracks that help finish the mix with you, in the words of Bruce Springsteen (and Hot Chip), dancing in the dark.
May your lights be dim, your buzz be lit, and your friends be seriously stoked to get down and rock out with this nocturnal soundtrack!
Editors' Recommendations