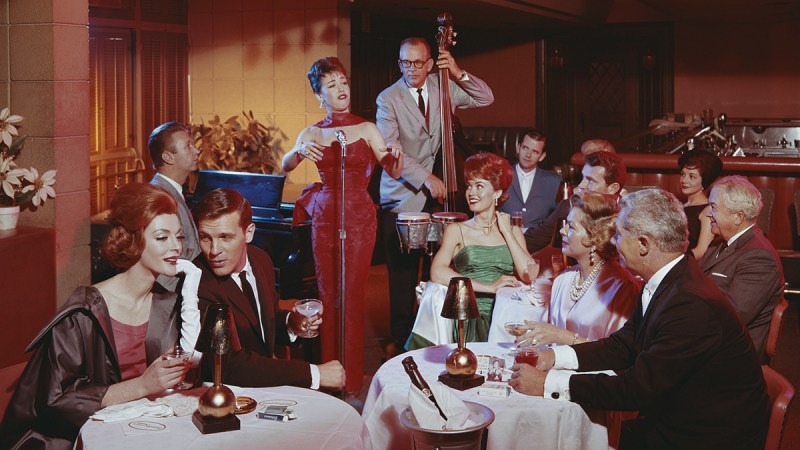 You've got the sweet new rocks glasses, the stainless steel shaker, and a gang of friends coming over for a cocktail party. The only thing missing? Some quality tunes with which to chill. This mix has been shaken and stirred to provide maximum  ambiance for your bartending and drink-sipping needs. It's on the lighter side of funkiness to help you get your head nodding and your wheels greased (without ever getting too crazy). And though the playlist is rife with great music, some songs are highlighted below. I raise my glass to your good health — and even better parties!
"Summer Fields" by Lemongrass
If you could bottle an ideal groove with which to get your libations on, this could be that top-shelf special reserve elixir. The enveloping and ethereal "Summer Fields," with its modulating tones floating back and forth from the left to right speaker channels, creates that space in your mind's eye where good things happen (be it sunny tropical beach, cruising with the top down, or getting friends together). The vibe of Dr. Seuss-ian Truffula Trees swaying in the breeze coupled with the soothing, undulating beat make this song an optimal starting point.
"Tonto Rides the Gain (Steve Cobby Remix)" by Jon Kennedy
Steve Cobby is the co-founder of the ultimate chill masters Fila Brazillia (their track, "Rustic Bellyflop" fittingly follows up this one). On this remix of Jon Kennedy's "Tonto Rides the Gain," he begins with scarce guitar and atmospheric synth tones, and doesn't bring the beat in until the two-minute mark. The escalating build works great as Kennedy travels "through this weird and wonderful landscape" reflecting on his "happy simple songs." Enjoy the wide-open world this song creates.
"Cut The Jazz" by De-Phazz
Sampling Ella Fitzgerald's "Love For Sale," "Yesterdays," "Someone To Watch Over Me," and "How Long Has This Been Going On?," Germany's De-Phazz (led by Pit Baumgartner) is pure genius when it comes to layering many tracks, samples (string sections, horn stabs, etc), and tones to create forward-thinking musical soundscapes. The album Detunized Gravity is a tour de force of studio wizardry (further verified downstream in the form of "No Jive") and this song manages to evoke vintage jazz spirit while perfectly pairing it with some new school swagger.
"Bison" by Session Victim
Also hailing from Germany, Session Victim is comprised of Hauke Freer and Matthias Reilling. Together since 2008, they have created an awesome body of house-based music that borrows generously from the sounds of funk, soul, hip hop and jazz. Their shows add live bass to the typical DJ hardware, and this track, "Bison," helps kick the mix up a couple notches with its bubbly bass line, soul singer snippets, and random iPhone text message sounds. Bonus: The track "Over And Over" a few songs down adds a few more BPM (beats per minute) to get your cocktail party gently rocking while still keeping it classy and restrained.
"Hear the Sun" by Linkwood
Its hard to find much info on the Firecracker Record released "Hear the Sun" by Linkwood, but, damn, this track though. From the commanding female comic book hero on the cover  to the mesmerizing bass line drawing you in like Kaa from The Jungle Book, Linkwood is on to some deep end captivating Sun Ra-esque shiznitch. Surrounding you with a veritable universe of sound, Edinburgh's Linkwood brings you hand-clapping and happy all the way home.
Need some cocktail suggestions? We've got you covered. May this mixology mixtape mix in nicely with you and yours (and your mixers). Cheers!
Featured image courtesy of Tom Kelley Archive/Getty Images.
Editors' Recommendations