Is this a glimpse into what the homes of the future will look like? Or have we stepped back to the mid-century modern era of avant-garde spaces? This home is both, a playful design that is at once futuristic and retro.
The brainchild of Paris-based architect David Tajchman, On the Rocks offers a perch high above the ocean (the intended location has not been disclosed) in which one can indulge in luxury living. The undulating roof feels sculptural and yet natural, mimicking the waves of the water and curving out to match the ridgeline of the rocks. It's an impressive and inventive residence from top to bottom. But Tajchman is no stranger to designing inventive spaces, rethinking everything from parking garages to an elevated train station.
Tajchman is known for his "Futures from Natures" philosophy, which he has taught in universities around the world since 2009. This approach implements 3D drawings, hand-crafting, and digital fabrication to rethink the concept of space. The results are innovative new forms that offer a futuristic shape while still providing a comfortable and welcoming atmosphere that feels familiar.
For On the Rocks, Tajchman seamlessly blends old and new. There are classic mid-century modern elements throughout the home, including a covered carport entry, sunken living room with panoramic views out to the water, and clever incorporation of natural elements like the jagged stone outcropping that is turned into a fireplace. These timeless touches are offset by curving forms in the floors that swoop around to become built-in bookcases and the steps leading down to the living room.
A contemporary kitchen with a massive island clad in wood overlooks the living room. Thanks to the changing floor levels, the kitchen is also treated to panoramic views of the water. The island extends and transforms to become the dining table which is surrounded, again, by mid-century modern-inspired seating. In the back of the kitchen, a large window looks out to the carport, turning the classic car parked there to serve its turn as a work of art.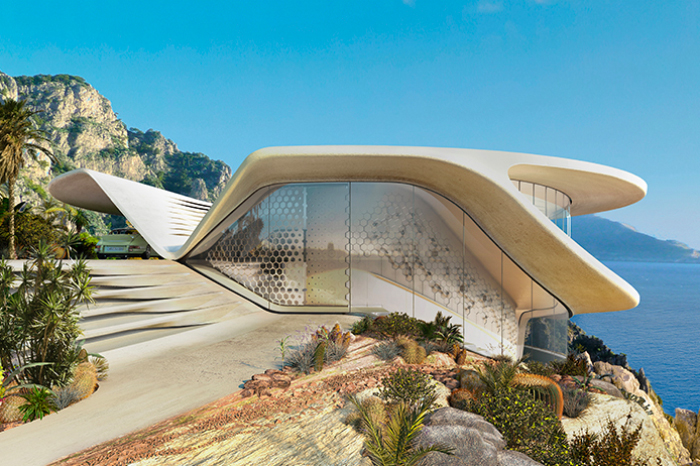 Outside of the family room, a sweeping south-facing covered patio lets the owners relax while listening to the sounds of the ocean. Take a glass-enclosed staircase down to the lowest level, and you'll find an infinity pool that matches the curves of the patio above.
There are many concepts at play in On the Rocks — a blending of old and new, contemporary materials meeting natural elements, a unique form that manages to hide among the hills — but all of it works together and beautifully highlights Tajchman's ultimate design philosophy of "Futures from Natures." While the site and the surrounding natural elements informed many of the design decisions, On the Rocks used this to look to the future at what homes could be.
Want a look at another futuristic home? Check out how Wave House rethinks the classic log cabin.
Editors' Recommendations