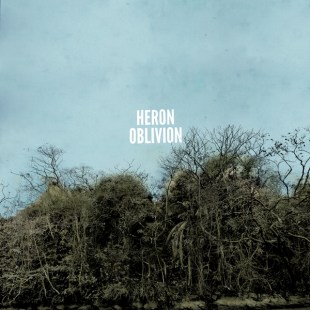 Heron Oblivion released their self-titled debut on Sub Pop last Friday, but don't let that fool you into thinking the band's members aren't veterans. Singer-drummer Meg Baird, who has released music with Espers and under her own name as well, has a light, ghostly voice while the rest of the line-up features experienced psych rock players Noel Von Harmonson and Ethan Miller of Comets on Fire and Charlie Saufle of Assemble Head in Sunburst Sound. It's an unusual pairing to say the least, and prospective listeners could be forgiven for thinking the two sounds don't work together. Those skeptics would be wrong, however.
Rather than simply mashing together Baird's vocals over fuzzed out psych rock, Heron Oblivion judiciously combine the two. At times Baird leads the album's songs with her vocal melodies, while at other times she allows the wah wah pedals to take the lead. What makes this work so well—why the instruments and vocals don't simply sound mashed together—is Baird's impressive ability to control the tone of her voice. On many of Heron Oblivion's songs, Baird's voice is reminiscent of Sandy Denny's, hinting at inspiration from the British folk revival. That sound comes across strongest in lead single, "Oriar." The song begins aggressively, but the fuzz quickly subsides as Baird begins to sing.
Other tracks, like opener "Beneath Fields," stretch out to lengths of seven, even ten minutes. Those long run times allow Heron Oblivion to develop soundscapes gradually, and Baird's voice quiets down to accommodate that slower development. On these tracks, rather than Sandy Denny it is Julee Cruise who Baird channels. The effect is eerie—uncanny, even—and serves to develop tension that is only relieved by the wail of a distorted guitar.
The first sentence on Heron Oblivion's page on the Sub Pop site reads, "Pastoral pummel." No two word summary is going to reveal the essence of any work of art, but "pastoral pummel" comes about as close as one can reasonably hope. Elegantly combining the veteran skill of its members, Heron Oblivion create an intricate mixture of delicate folk sounds with crushing psych rock.
Heron Oblivion is out now on Sub Pop and available on Amazon, iTunes, and Sub Pop's MegaMart.
Editors' Recommendations