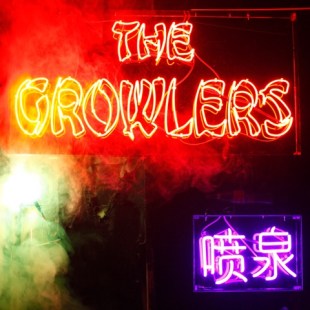 The music of The Growlers is unmistakable.
Sure, you can hone in on some influences baked into the work of this California-bred band. Heck, even they'd cop to a few, like Ricky Nelson and The Clash. But once those same RIYL tags have been filtered through the minds and hands and voices of this five-piece, there's simply nothing else like it.
The Growlers took the phrase "Beach Goth" as an apt descriptor of their music. Sunburned and salty, that term perfectly describes their distinctive melding of reverb heavy surf guitar and Bakersfield-style honky tonk with '80s post-punk.
This is especially true of Chinese Fountain, The Growlers' fifth full-length set to be released on September 23rd via Everloving Records. The 11 songs found on it are some of the strongest that they've committed to tape yet; a byproduct not only of eight years in the trenches together, but finely honing their gypsy folk dirges and psychedelic sea shanties to fans at close to 150 shows each year. The connection between vocalist Brooks Nielsen and guitarist Matt Taylor (the principal songwriters of the group) has only grown deeper.
"The band played better than they've ever played," says Nielsen. "We've got the process down now. There's less screwing around to get the songs laid out and we weren't waiting around for take after take. We knew it and we played without much time to spare."
That confidence bleeds through every track on Chinese Fountain, with the band assured enough to layer in shades of many new influences: the loping ska beat of "Dull Boy" and "Going Gets Tuff," the playful disco beat behind the title track, or the Teardrop Explodes-like agitation of "Good Advice."
Not that the band left themselves much room to second-guess anything. The five spent about three weeks writing the tracks, and about half that time in the studio recording them. That may sound rushed, but it's not as if you can hear any strain on the finished product; Chinese Fountain is as rock solid and watertight as anything in their still-growing discography.
There's evolution to be heard in Chinese Fountain as well, courtesy of some of Nielsen's most pointed and poignant lyrics to date. He takes our obsession with the online world to task on the funky title track. When he drops the bomb that obliterates that most famous of Beatles' claims with "The internet is bigger than Jesus or John Lennon" he re-contextualizes Marshall McLuhan's "the medium is the message" in the same breath. He urges positivity no matter the obstacles ("Going Gets Tuff"). Too, he reveals a tattered heart to the world on tracks like "Rare Hearts" and "Love Test."
"This is my chance to let it all out," Nielsen says of these songs. "I kind of bottle things up and don't really get emotional. But I think if I don't open up, I'd be a really stale person."
Order Chinese Fountain from their official site, Amazon, or iTunes!
Editors' Recommendations