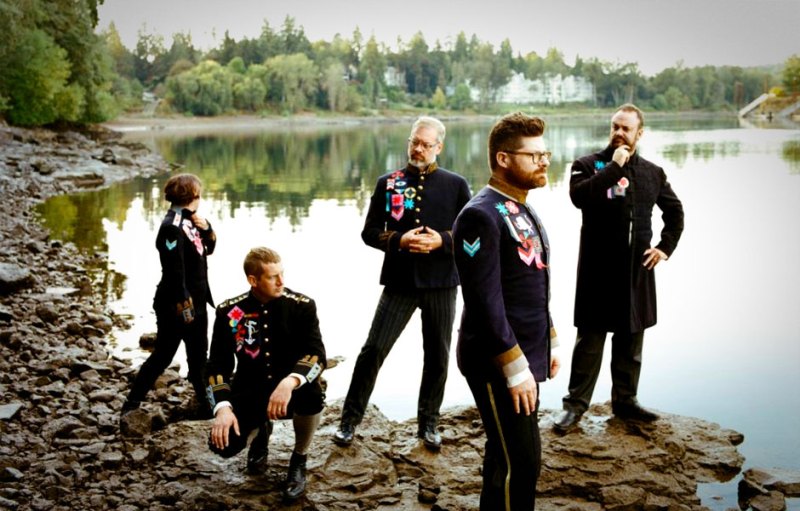 In the music video for "Make You Better," the lead single from The Decemberists' new album, What a Terrible World, What a Beautiful World, Parks & Recreation's Nick Offerman portrays a TV host in the middle of a fraught relationship with one of his coworkers. This change in role for Offerman, from rugged Ron Swanson to the vulnerable Franz, is indicative of a larger change in The Decemberists' tone on their new album.
What a Terrible World… is more direct than the band's older catalogue. "Make You Better" deals plainly and openly with the burdens lovers place on one another, while tracks like "12/17/12" feature vocalist Colin Meloy singing on his own experiences rather than narrating stories about fictional/mythical characters (cf. The Hazards of Love and The Táin).
That said, and even considering the band's shift in lyrical style, What a Terrible World… is unmistakably a Decemberists album. "The Singer Addresses His Audience" includes sly references to the listener as it takes a serious look at issues of fame and artistry, and in another life "Philomena" could have been the most suggestive track The Hollies ever recorded.
Meloy's use of more personal lyrics is a rejuvenating move for the band. What a Terrible World… points toward a new way forward for The Decemberists. The band is exploring new lyrical territory as well as digging further into its roots and inspirations.
What a Terrible World, What a Beautiful World came out last Tuesday, January 20th, on Capitol Records and is available on Amazon, The Decemberists' official site, and iTunes.
Editors' Recommendations