The MADi home is the future of affordable tiny house living. This prefabricated space can be your next humble abode in less than a day of build-time.
The MADi (which is an abbreviation of modulo abitativo dispiegabile, Italian for "deployable housing module") is a modular home. Compare to others in the booming market, the MADi comes in with unique flare, boasting a beautiful A-frame design, and environmental friendliness, as well as game-changing earthquake resistance.
Italian architect and acclaimed home accessories designed Renato Vidal is the mastermind behind this brilliant and resilient alternative in affordable housing world.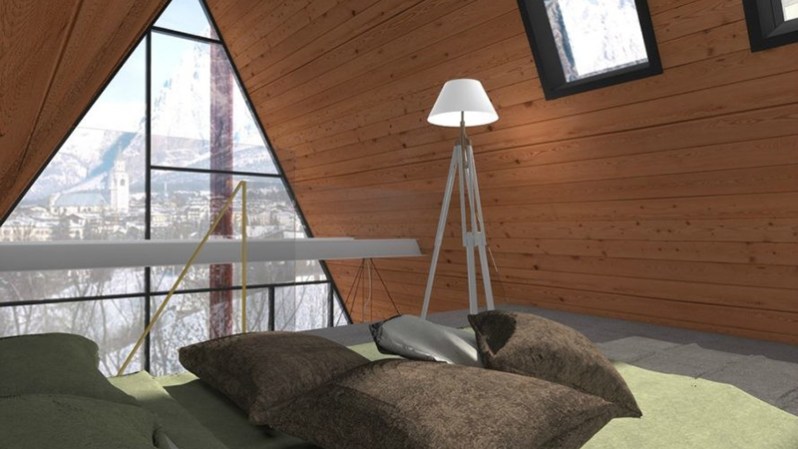 Sure, when we think of affordable living, the first thing that comes to mind is the essentials: a place to eat, a place to whizz, and a place to crash. Vidal managed to package all the characteristics of a comfortable home into an innovative and sleek looking design that can literally be unfolded and assembled. Hell, it even arrives with the electrical system, plumbing, and HVAC system ready to go. And if you're looking to go all the way toward lowering your footprint, you can also opt to add solar panels, LED lighting, and gray water systems.
Our favorite aspect is not its stunning look or eco-friendliness, though — it's the versatility. The MADi house construction requires a crane, some extra hands, and about six to seven hours of work — but all of this can be done with zero environmental impacts, and it can be built virtually anywhere without the assistance of a soil-degrading, concrete foundation.
Watch it unfold below:
The modular aspect of MADi means you can endlessly combine units for a larger structure. This puppy can also be easily collapsed and moved to a new location if you ever feel the need to get away. Freedom is fervently part of our human nature, and this is a perfect way to cut the chains for your typical month-to-month mortgage, or get fast-tracked method rebuilding after an unfortunate event.
The MADi is available in a variety of sizes depending on your needs . The current options range from a 290-square-foot tiny home with a one-stage staircase for $32,800 to a 904-square-foot family home with a two-stage staircase that will cost you almost $73,000.
Unfortunately, the MADi is only available for delivery in Italy. However, they do have an international patent and hope to start selling abroad in early 2018.
Editors' Recommendations