Have you ever paged through a Ralph Lauren catalog and found yourself thinking less about the fine-wale corduroys and more about the beautiful domestic backdrop? We have. High-quality knits and leather goods are fine and dandy, but when the toughest your clothing faces is jogging into and out of your Prius … well, you can't help wishing you had a more fitting place to wear them. A place, for example, where you can enjoy the simple pleasures of some devoted outdoor husbandry followed by a weekend of doing nearly nothing.
That's essentially the dream that started Milk Barn, a converted dairy barn nestled in 15 secluded acres of New York's Catskill region. Originally built by European settlers to the region, the property was purchased in the mid-1960s by a New York City fashion photographer, who faithfully came out every weekend to restore and improve the building and its surrounding grounds (not to mention his own city-jaded soul). Over time, these weekend intensives turned into work parties, during which friends from the city would join the owner and his wife to help with projects like installing a nine-foot soaking tub in the basement, laying the floors with marble tile, or creating a nude bas-relief in the master bath. As the conversion neared completion, work parties gave way to legendary carousing and, given the artsy crowd, impromptu photoshoots.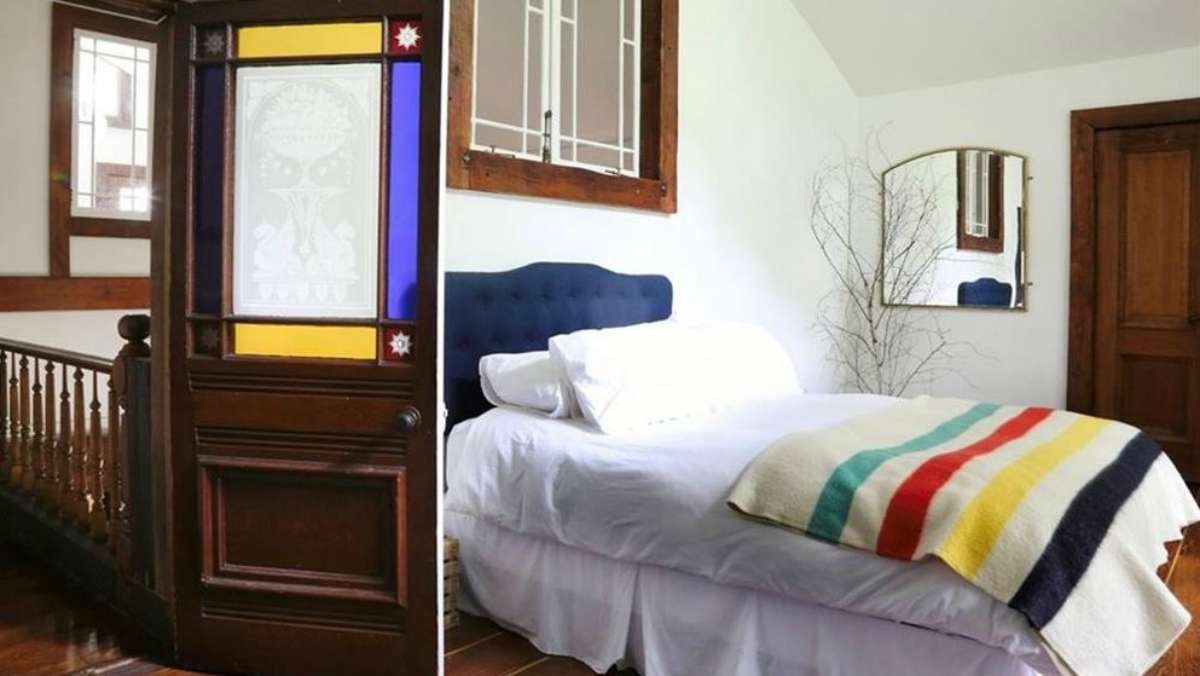 The great story behind Milk Barn continued with its 2015 purchase by Gabriel Adiv, a music industry software guy who infused the property with a modern minimalist sensibility that really makes it shine. The aesthetic he went after, in his words, was "Levon Helm meets Ian Schrager … luxurious on some level, but also raw". In the past few years, Milk Barn has played backdrop to photoshoots by Ralph Lauren, L.L. Bean, Mr. Porter, and countless travel and lifestyle publications.
This beautiful property is such stuff as menswear dreams are made of. And now, it's for sale. For $819,000, which we think it's kind of a steal.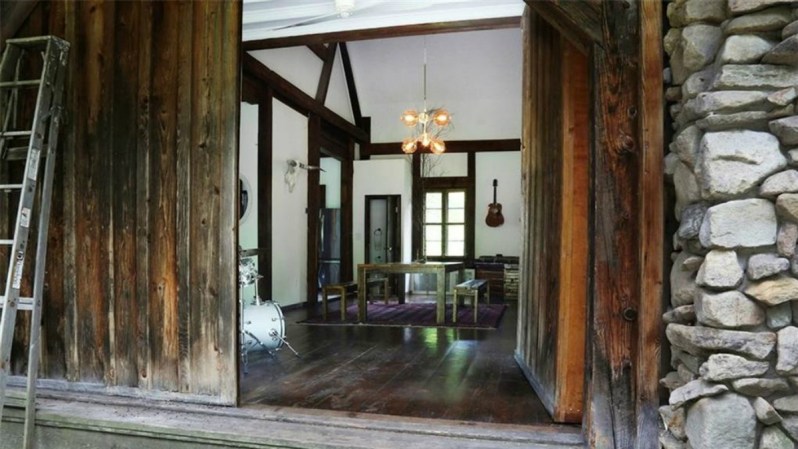 In true catalog-perusing fashion, we recommend curling up on the couch with a cozy afghan and a cup of something hot to start scheming (or daydreaming) about how you could own this heartstopping upstate New York property. And if you do, remember you heard it from us first
Built in 1873, Milk Barn sits on 15 private acres and includes two guest houses, three glamping cabanas, a treehouse, and a spring-fed swimming pond. Surrounded by the woolly ridges of the Catskill Mountains, your nearest neighbors will be the silent evergreens and the deer that browse among them. In other words, it's the ideal place to turn up your records as loud as you want.
From the very first glance, Milk Barn is a true stunner. Walking up to the massive front doors of this beautiful converted wooden barn, one half expects to be greeted by someone of another era. From the centerpiece doors, the eyes move to the stone fireplace that occupies fully one-third of the facade. The bluestone terrace is perfect for a happy hour with a group of friends.
The spacious open-air main space is anchored by soaring ceilings that allow bright light to enter from all directions. The vast open layout centers upon a table fit for a Viking war tribunal. Guests of Milk Barn gather to this space for meals or a civilized game of chance, but we also think it's the perfect spot for a solitary cup of coffee on one of those hazy spring mornings that seem to last all day.
For visitors coming up from the city, eating breakfast with the massive front doors wide open to nature is always a highlight. City dwellers need to see the trees once in a while. Milk Barn allows for such R&R, but with an elegance always appreciated by its guests.
All your culinary needs will be satisfied at Milk Barn. The Chef's Kitchen includes a Thermidor Range, a huge refrigerator and all new appliances, set amid a hand-tiled marble floor and a whitewashed stone sideboard. It's a beautiful room in which to craft a meal.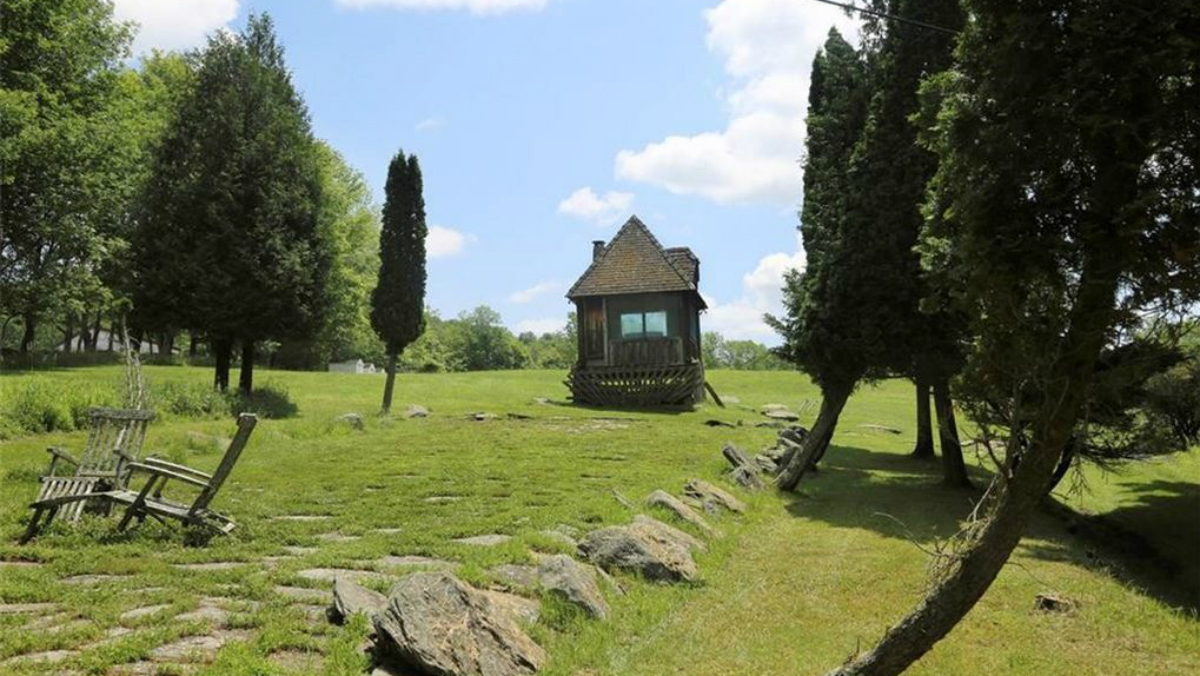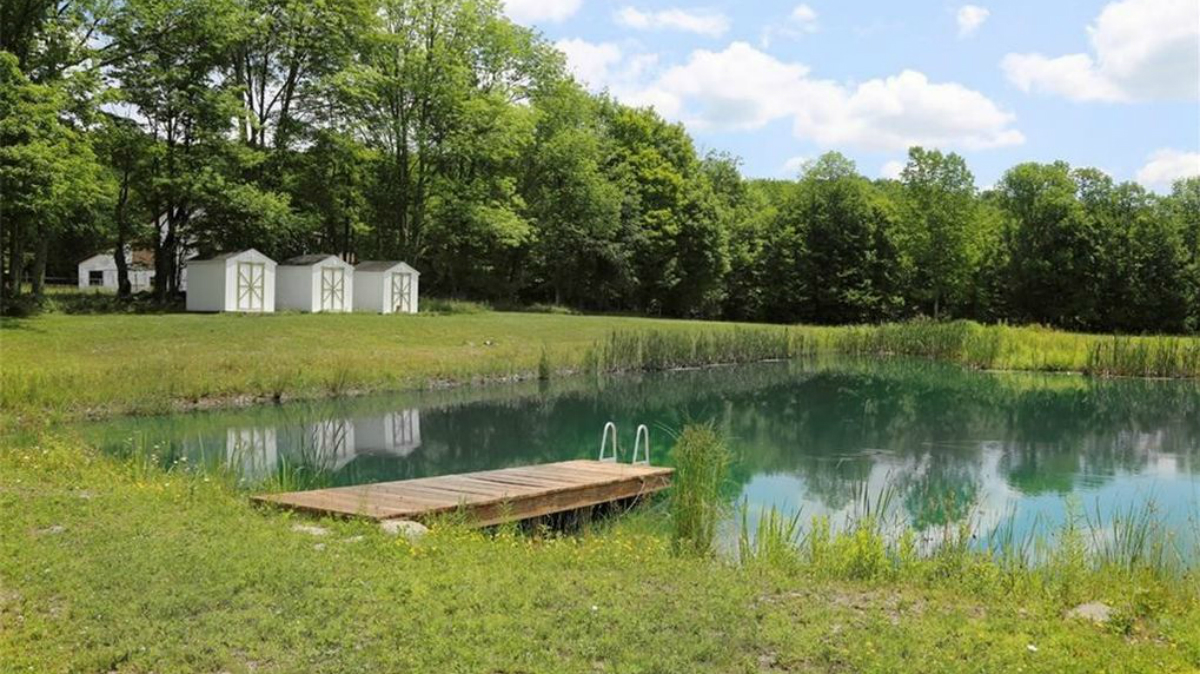 The Tiny Guest House, one of five stand-alone guest accommodations on the property, has a whimsical Grimm Brothers look, with wraparound windows, a fireplace, and a ladder leading up to a loft space. Closer to the barn is the newly renovated Milk Shed, which also sleeps two, but comes equipped with a shower and sink. Three additional cabana-size sheds near the swimming pond feature luxe bedding, decks, electricity, space heaters, and air conditioning. The custom treehouse provides yet more guest quarters–in the spring and summer, it might be the best spot on the property.
Details include etched and stained glass embedded in the interior doors, Danish modern cabinetry, Googie light fixtures, architectural materials reclaimed from some of New York City's most historic buildings, and geometrically diverse windows set at quirky angles.
Set amid the Delaware River Valley, Milk Barn enjoys a unique regional culture that is, according to Gabe, "a bit more wild west than the other side of the Catskills. There's something about this area that's more raw, and as such, a bit more private and less untouched." That said, the surrounding villages offer plenty to keep your weekend escape well-supplied with food, wine, entertainment, and culture. In Callicoon, stock up at the Sunday farmers' market, but save room for the pho and spring rolls at Vietnamese lunch counter Bà & Me; in Livingston Manor, the North Branch Inn is a must for after-dinner cocktails and a few rounds on the antique two-lane bowling alley; and in Bethel, Sunday brunch at the Dancing Cat Saloon is best followed by a pilgrimage to the hallowed grounds where Woodstock was held in 1968 —you can even see Yasgur's farm in the distance.
Milk Barn is listed by State Farm at $819,000. The 15.42-acre property sleeps 11; the main house includes three bedrooms, three full and two half-baths, and a finished basement. Other features include five detached guest accommodations, two-car garage, sauna, aquifer-fed swimming pond, outdoor fire pits, and custom treehouse. Visit their website or Instagram for more photos.
Editors' Recommendations