Though rolling a perfect joint has long been a mark of distinction among cannabis connoisseurs, no one can deny the allure of a pre-roll. Somewhere, a skilled roller is deftly wrapping freshly ground flower complete with a secured filter and all you have to do is enjoy the fruits of their labor.
Since 2017, Lowell Herb Co., under the name Lowell Smokes, has been elevating the pre-roll even further, as joints-as-cigarettes packaging becomes increasingly common. The company offers indica, hybrid, and sativa blends in either 1/8-ounce (seven pre-rolls) or 1/4-ounce (14 pre-rolls) capacities. Each hand-rolled pre-roll holds about half a gram of organic cannabis that usually tests between 22 and 25% THC. You can also find pure CBD packs at select California dispensaries.
In late 2018, Lowell Smokes rounded out their lineup with a 1/8 -ounce variety pack containing seven single strain pre-rolls. Though meant to be a limited edition pack, these pre-rolls were met with such praise that you can still find them at California dispensaries.
"If you're a new user and want to try different strains to find the best cannabis for you, or if you're a more experienced smoker and like various strains for different times in your day, the variety pack is an elegant solution," said CEO and co-founder, David Elias to MedMen. "It really makes a thoughtful and practical gift for any cannabis consumer."
Each pre-roll has a small symbol on the filter that corresponds to a strain guide on the package. They smoke cleanly with little to no throat burn thanks to the natural hemp papers and lack of trim or shake in the rolled flower. The strains vary from pack to pack, but you always get at least two hybrids, indicas, and sativas. The potency range dips a little to between 17 to 22% THC.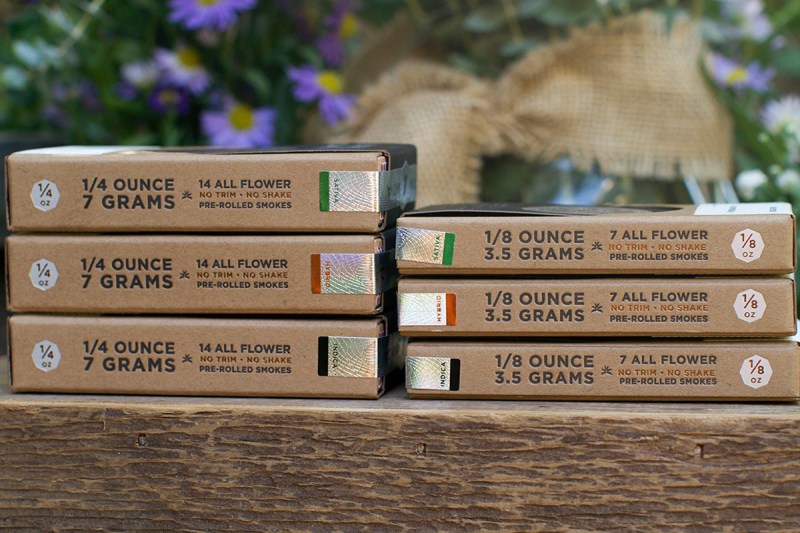 Each of the luxury Lowell Smokes packs come in an apothecary-inspired craft box made from recycled materials. This natural design aesthetic harks all the way back to when the company decided to sell their single pre-rolls (1 gram) in BPA-free glass instead of the plastic tubes and bags other companies use. A simple yet effective push-to-open latch gives you access to a drawer filled with pre-rolls and green-tipped matches. The combination of the strike pad on the internal drawer and the matches yields such an incredible match-lighting experience that you'll wish they sold the matches on their own.
Lowell Herb Co. isn't just ecologically progressive; it routinely goes to bat for social issues as well. Starting in 2018, the brand began a comparatively aggressive hiring campaign for a variety of roles specifically for those pardoned for marijuana-related crimes. This April, Lowell Smokes also launched the Frank White Creative Blend in partnership with CJ Wallace's (son of The Notorious B.I.G.) Think Big organization, which challenges the negative perceptions of cannabis, especially for people of color. Proceeds from this hybrid blend will benefit the Prison Arts Project, which brings artistic workshops to prisoners throughout California.
If you like your cannabis with a conscience, and in a ridiculously beautiful package, Lowell Smokes are widely available throughout California. The company is rolling out products in Oregon, Canada, and a few other as-yet-undisclosed North American markets throughout 2019.
Editors' Recommendations