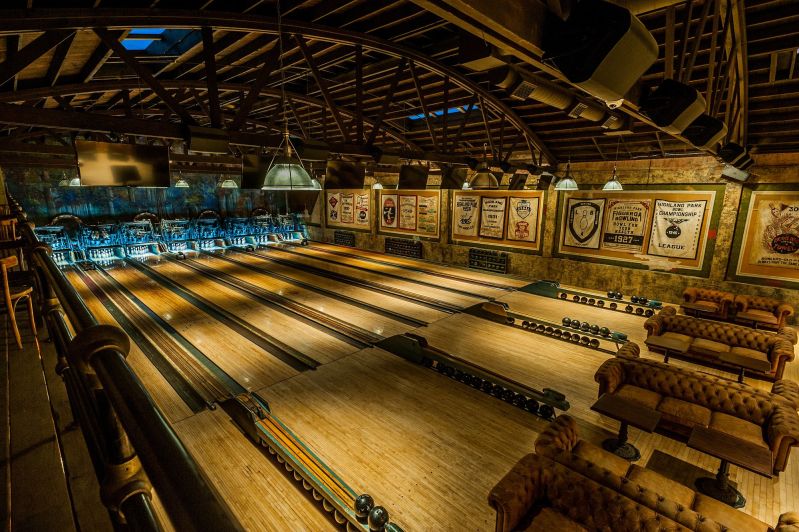 Bowling is hardly considered a sexy pastime, but Highland Park Bowl has made it just that. The 1933 Group (of Sassafras and Big Foot Lodge fame) has created another can't-miss bar by reviving Los Angeles' oldest (operating) bowling alley, which comes with its own storied history.
The alley opened in 1927 during the height of Prohibition, but a loophole in the laws allowed people to obtain alcohol legally from pharmacies if they had a note from a doctor. The current site of Highland Park Bowl was home to doctors' offices upstairs and a pharmacy downstairs, even adding a music store, making it the perfect one-stop shop for Prohibition era drinking.
Fortunately, the Constitution is no longer stopping you from enjoying their carefully crafted cocktails and craft beer offerings. The Dude Abides is their "Big Lebowski" twist on a White Russian: Tito's Vodka, Housemade Civil Coffee Liqueur, Horchata Cream, and Cinnamon Tincture. Or, try the cocktail inspired by the film "Throw Momma From The Train," which was filmed there in the late 1980s: "Warren Loves His Momma," Jalapeño tequila, Chareau Aloe Liqueur, Hibiscus, lime juice, topped with IPA.
They didn't scrimp on food either: pizza is certainly the main event, made in the Neapolitan way with exclusively San Marzano tomatoes, baked to crispy perfection in a wood-fire oven. Pizza in a bowling alley has never been so classy. If you're not in the mood for pizza, which would be admittedly strange, you should give the calamari a try.
The bowling is way pricier than your average alley. The cost varies on the time and day, but you're looking at anywhere from $50-$70 a game. Then again, you're really coming for the meticulously salvaged and updated atmosphere. The six lanes, all using original ball returns, are situated beneath an epic 1930s Anderson Brothers forest mural depicting the area's then-scenery. The site's original skylights and trusses lord over you, and the same candy, cigarette, and popcorn machines our drinkless friends used were saved and put back into the space. The bowling theme is cleverly included in the decor, transforming old pins into lamps and pin machines into almost steampunk-like chandeliers. Old bowling league banners, once lost in back rooms, again decorate the walls. The 1933 Group even paid homage to the original music store, transforming it into a place for live shows.
Highland Park Bowl was lovingly and painstakingly restored to an incredibly cool bar with modern touches and all the sophistication and character of the past. It's the perfect place for group events, dates, or for out-of-towners looking for a one of a kind night.
Editors' Recommendations