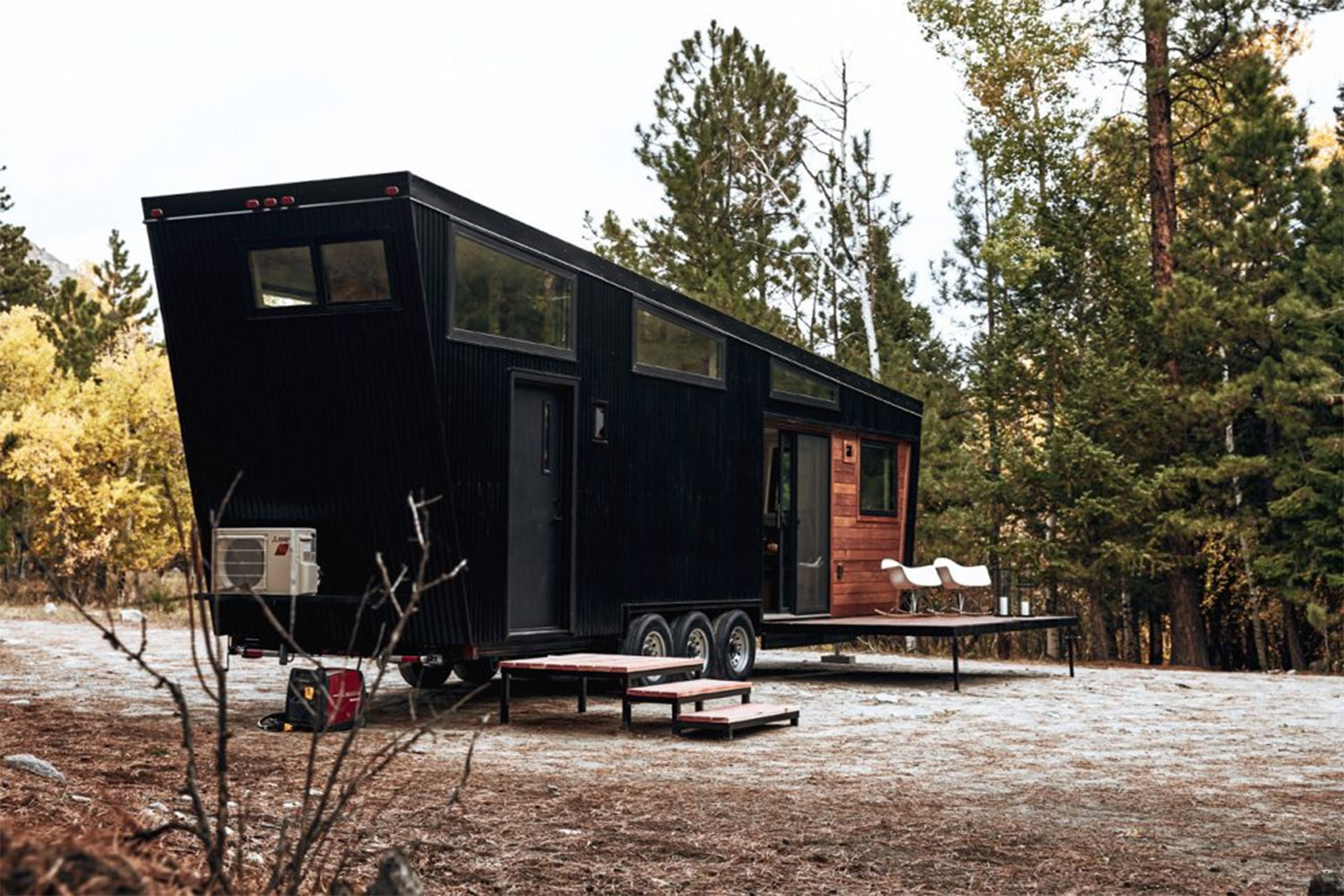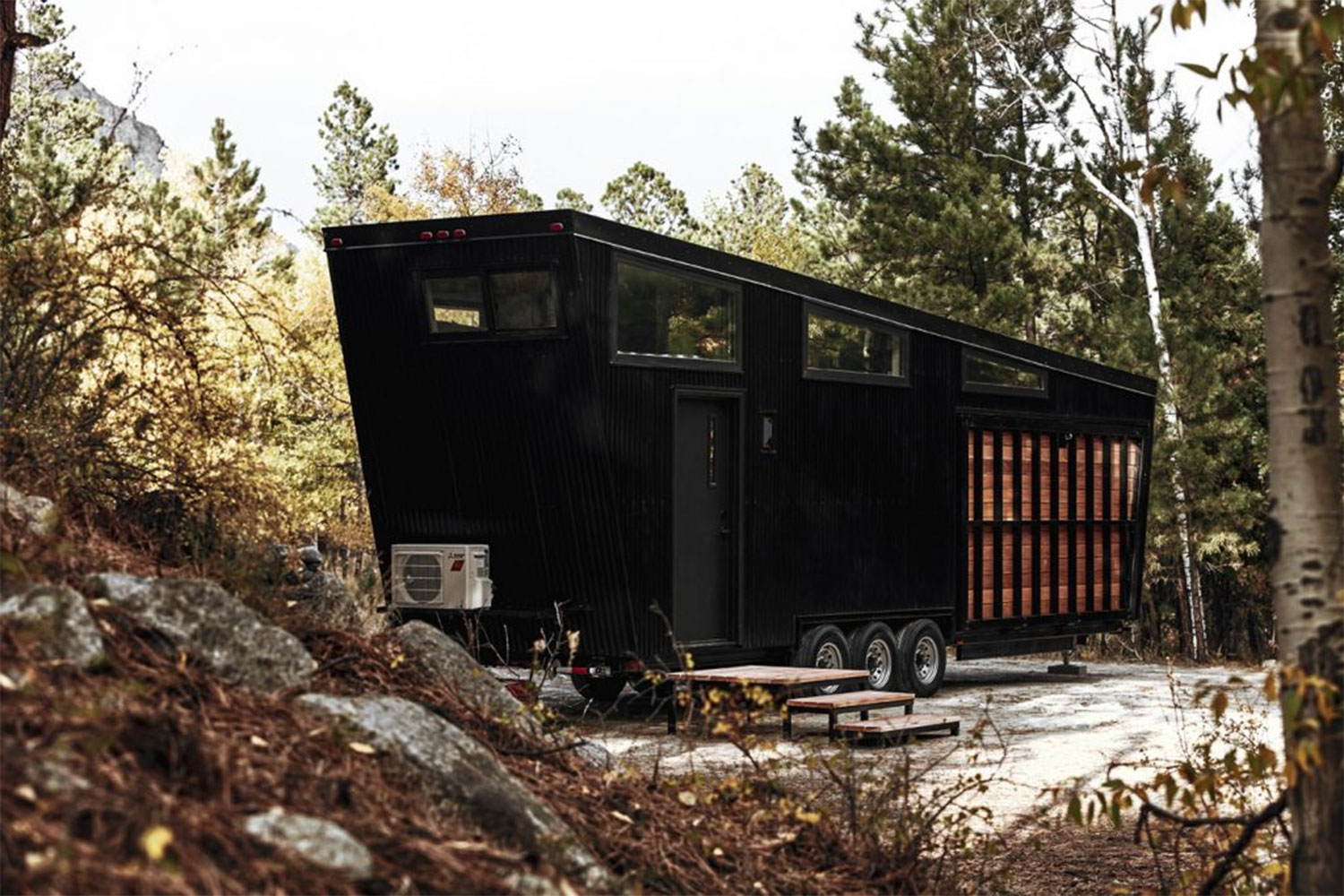 Just based on the outside alone, we are already drooling over Land Ark RV's Draper tiny house. Sleek black siding, a dramatically sloped roof, and interesting angles reminiscent of the Mid-Century Modern homes we love, it's no wonder this tiny house was named for Mad Men's Don Draper. But step inside, and you find a surprisingly bright and airy home with contemporary finishes that make the Draper feel refreshingly new.
The creation of husband and wife duo Brian and Joni Buzarde, Land Ark RV came from their own passion for living tiny. After traveling around in their prototype "Woody," the couple began work on their line of innovative tiny homes. Currently they have two models available, the Drake and the Draper. What makes their homes stand out from others is the high-end style implemented into each design.
The Draper oozes swagger. Outside, it is clad in black corrugated metal siding and the black entry door almost disappears, making for a dramatic facade. There is a simple platform-style hardwood deck below a set of sliding glass doors which are surrounded by stained cedar siding. When folded up for travel, the metal support beams on the underside of the deck created an interesting grid pattern on the side of the home.
The all-black outside of the home may have guests thinking they are about to step into a Bat Cave-like space, but they are in for a surprise. Inside, Draper is decked out in white-washed pine walls and ceilings and vinyl plank flooring. With light flooding in from clerestory windows, the interior is surprisingly bright and inviting.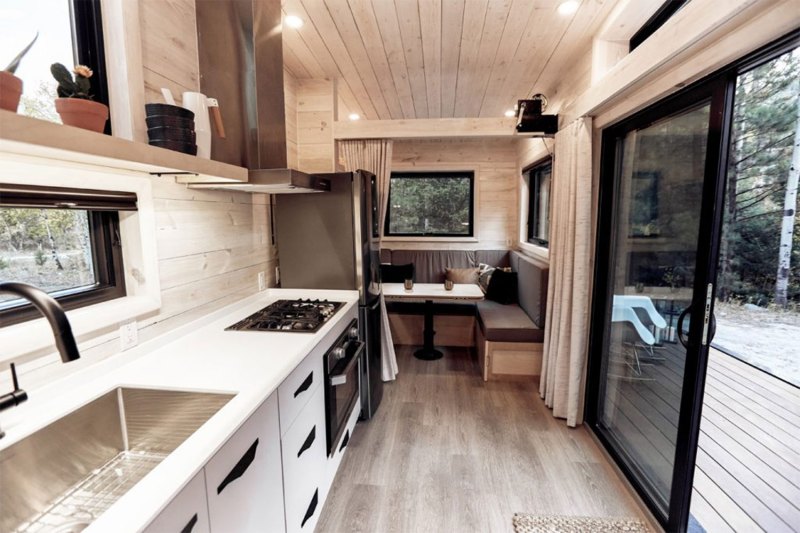 Despite the small size, the Buzardes managed to fit in all of the modern luxuries we look for in a home. A U-shaped dining nook transforms into a queen bed for guests. The bathroom has a spacious shower. The sleeping loft is surrounded by windows for taking in the views from bed. The contemporary kitchen features all-white cabinets and countertop with a large sink. There is also a gas cooktop, an oven, and a full refrigerator – something most tiny homes lack.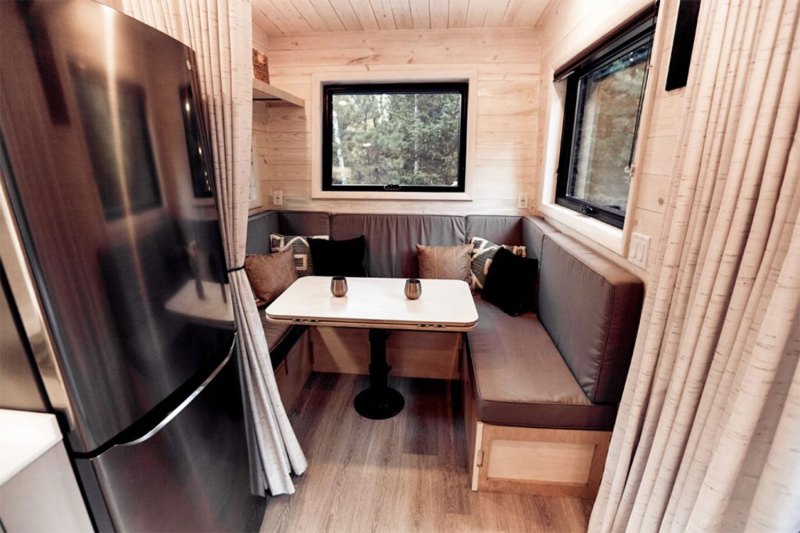 What's most surprising of all is the amount of storage they were able to squeeze into the home. The Draper comes with wardrobe that is over seven feet long – an unheard of amount of closet space for a tiny home. Lack of storage has always been one of the biggest issues facing living small, but you won't have to downsize your closet with the Draper. A bonus space for a combo washer and dryer along with a bench and storage cubbies finish out the mud room.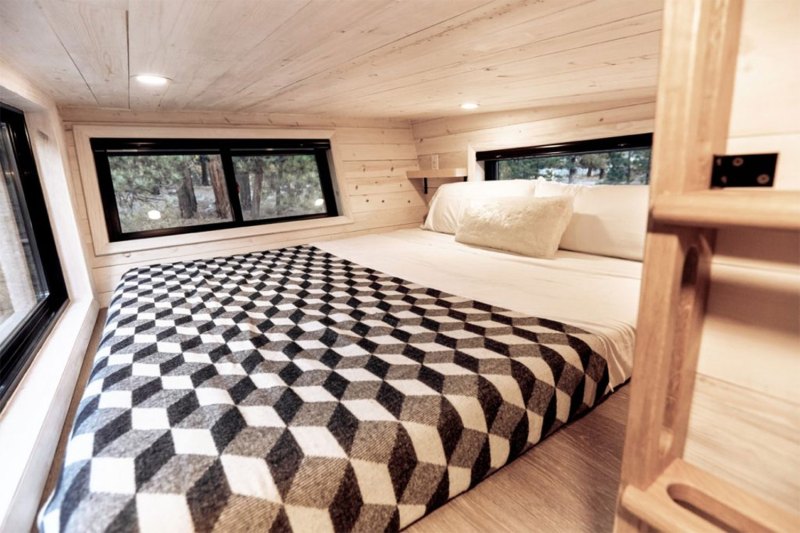 With a list price of $144,900, the Draper is a bit pricier than other tiny homes, but you get a lot more for the higher price. Along with the insane amount of storage and an ultra stylish home, you also receive the registration and delivery to your location. Homes take just 3 – 4 months to build, which means if you place your order now, you'll be hitting the road in your new tiny home just in time for spring.
For other tiny homse, take a look at this one that aims to have zero environmental impact or this one that's actually a tiny houseboat.
Editors' Recommendations