Man isn't meant to stay indoors — our weekly "Trekking" column can attest to that. It's a column dedicated to the adventurer inside of all of us, the one pining to ditch the office humdrum for a quick surf session or seven-week jaunt in the Grand Tetons. One day we may highlight an ultra-light stove and the next a set of handmade canoe paddles. Life doesn't just happen inside the workplace, so get outside and live it.
Surfing is a labor of love… err at least if you're looking to catch some waves all by your lonesome. The best swells and right-hand breaks are rarely the most accessible, especially those that line the beaches of Nicaragua, Indonesia, and other distant locales that require you to tramps through the rain forest or hitch a ride on a passing skiff. And once you factor in your wetsuit, towel, and a surfboard that's longer than you are tall, things can be a bit unwieldy to say the least. Thankfully, that's precisely where the Koraloc Board Bag ($229) comes in.
Related: Skating meeting surf with Iris' handmade, veneer-backed surfboards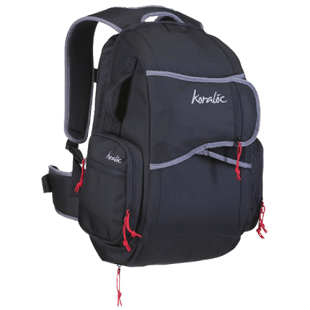 The California-based Koraloc designed the backpack specifically with surfers in mind, which translates to a tote that's made for the eco-conscious surfer on the move. The company's name comes from the Tibetan word for "pilgrimage," which is an apt name for a manufacturer that caters toward those who intend to walk, bike, or skate to the barrel mecca of their choice. The Board Bag's design allows you to carry up to three surfboards — each ranging between 5.6 and 8-feet in size — and unlike a traditional surf rack, it's built to retain your center of gravity so that you're not thrown off balance.
Inside, you'll find a wet dry bag and a commendable 29 liters of space, which is enough room for your wetsuit, a change of clothes, your laptop — there's a dedicated pocket, too — and anything else you feel compelled to take with you on your next beach-side excursion. An adjustable waist belt and multiple side pockets also let you stow your wax and fins for quick access, so you can spend less time fumbling with your gear and more time on the water. After all, that tidal push is only going to last so long.
Check out Koraloc online to place an order, or for more information.