You need money. To get money, you need a job. To get a job, you need to nail the interview, which sometimes seems easier said than done. Everyone knows the basics: dress nice, be polite, make eye contact, don't lie about your experience, etc. Still, for every job opening there are an average of 118 applicants, only 20 percent of whom will be called for an interview.
Related:
We'd like to give you a few advanced job interview tips that will not only help you stand out from the crowd, but will also make you analyze whether you are a good fit for the company you're interviewing with. For expert advice, we enlisted the help of the Center for School, College, and Career Resources (CSCCR).
Wait Patiently for the Call
Waiting to be called in for an interview can be sheer torture. Even so, you should resist the urge to call and follow up on the status of your application — particularly if it's only been a few days since you applied. Human resources representatives deal with a lot more than job applications and interviews in their daily work, and an antsy post-application phone call is more likely to hurt your chances of being interviewed than help. This doesn't necessarily mean you can't check up on the status of your application if you're feeling anxious, but you should do so in a less obtrusive way: "It's better to send an email that says, 'Hello, just want to let you know I'm still interested in the position. I know you're super busy, I look forward to hearing from you.' It doesn't require a response, but it puts your name out there," advises Traci Fajardo, human resources expert and former HR Manager at Digital Trends.
Do Some Reconnaissance
It probably goes without saying that you should Google the company you're interviewing for, but that alone isn't going to cut it. A monkey can do a Google search, and that monkey might just swipe your job if you don't do some serious research. Spend some quality time on the company's website to get a feel for the business and culture, and dig deeper into the industry and competitors as well. Interviewers notice when you've put in the time and effort to learn about the business, and it shows them you're someone who can take initiative and go the extra mile. If possible, try reaching out to someone who already works there so you can get a better grasp of the company's needs and speak specifically to those during the interview. If you can't do that, we highly recommend looking up the company on Glassdoor.com, where you can find employee reviews, salary information, and potentially even descriptions of the interview process from candidates who have already been through it.
Prepare for Common Questions
Unfortunately, you can't predict every topic that may come up during your interview, but there are some common questions that you can prepare for before your meeting. Interviewers love asking specific questions about how you've used your skills in the past. You've probably heard questions like, "Can you describe a conflict you've had with a coworker and tell us how you came to a resolution?" or "What is your greatest achievement?" Don't assume you'll be able to tackle these questions on the fly – think about them before you ever even set foot in the employer's office, and be sure you have true, applicable anecdotes prepared. "You should know the top skills needed for the job, then have some real life examples of how you've applied those skills," says Fajardo. "If you have those stories practiced in advance, you can almost always direct a question back to one of your stories."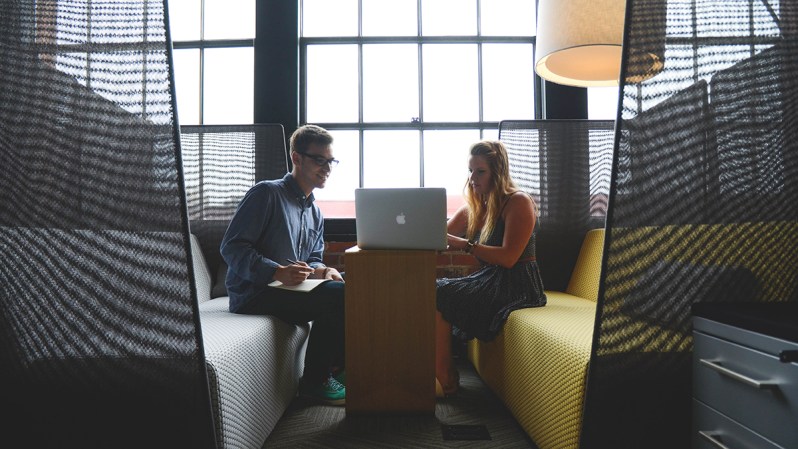 If you're worried about your nerves getting the better of you, don't be afraid to bring some notes into the interview. You don't want to robotically read every answer you give from a note card, but having them there for quick reference can calm your nerves and help you incorporate your real-life experience into your answers. Avoid defaulting to stereotypical responses (i.e. claiming your biggest weakness is how much of a perfectionist you are). The person interviewing you has likely heard those answers a million times and isn't going to be charmed (or fooled) by your clever wordplay. Remember that questions about your professional weaknesses aren't there to weed out any candidates who aren't utterly perfect; rather, they serve to help employers see if you can acknowledge and work to improve on any shortfalls. CSCCR offers a great piece of advice on how to respond to the age-old "biggest weakness" question: Mention a technical weakness you have (like a specific software or platform you only have basic knowledge of), and then follow it up by stating how you are actively working to improve that skill set (like taking classes or reading books on the subject).
Be Nice to Everyone, Not Just Decision-Makers
You already know that being rude to your interviewer is a pretty bad idea, but it's important to remember that your job interview begins the moment you step foot in the building, not when you officially sit down with the head honcho. Make an effort to be kind and respectful to everyone you encounter – after all, the hope is that people you come across during your interview will end up being your co-workers and customers. Not to mention the fact that they're bound to talk to each other if you make a bad impression. Being nice isn't just about how you speak to people, either – be sure to show the company they have your full attention by shutting off your phone and any other devices before you enter the building. Being interrupted by the Apple Marimba halfway through your interview is sure to leave a bad taste in a potential employer's mouth.
Be Confident and Enthusiastic, Not Cocky
There's nothing wrong with being confident during an interview – after all, you are basically there to sell yourself and your skillset – but the line between confident and cocky can be a fine one to walk. If you've ever had a co-worker who had trouble admitting to mistakes, you know how frustrating and counterproductive it can be when someone is too arrogant to learn. Employers know this frustration too, and they're not especially prone to invite it into their business. It's important to show them that, while you may be incredibly confident in certain skills, you're not afraid to improve in others. Be sure not to bash former employers or co-workers, even if you legitimately feel they are to blame for past conflicts; the person interviewing you doesn't know the full story, and it's easy to come off as a blame-shifter. When talking about past issues, focus on what you personally did to assess and resolve them, rather than focusing on how other people made things difficult.
Body language goes a long way in establishing the right level of confidence and energy, and it has a big impact on whether you get hired. According to LearnHowtoBecome.org (a fantastic online resource for expert career advice and stats), 33 percent of employers have passed on a candidate because of bad eye contact, and 22 percent have made a hiring decision based on bad posture. When you're sitting behind a desk all day, you may succumb to the occasional slouch, but in interviews, employers want to see that you're enthusiastic, engaged, and passionate. A lack of eye contact can give the impression of dishonesty, disinterest, or insecurity, so be sure to look your interviewer in the eye to let them know you're fully engrossed in the process.
Apply Your Skills to the Position
You have skills and accomplishments. The company you're interviewing with has challenges and needs. During the interview, your job is to bridge the gap between you and the company. Rattling off a list of relevant skills is great, but you really need to make them understand precisely how you will wield those skills to help their business thrive. "I like the people who come in thinking, 'OK, how can I help this company solve this problem?'" says Fajardo. "A big turn-off for an interviewer is an interviewee who comes in and says, 'This is what I need; I want this; I'm looking for this in my career.'"
That doesn't mean you should never bring up your personal career goals in an interview – if they totally mesh with the goals of the company, it may even be beneficial to mention them. Just make sure that your own needs and desires aren't the primary focus of your pitch; the company is looking for someone who will be a valuable asset to their team, not just someone whose career they can boost for no returns. Be thoughtful about your responses to questions about your skills, and always bring your answers back to a central theme: how you can help the company.
Ask Smart Questions
Once you've made it far enough into the interview to hear "do you have any questions about the position," you may very well be tempted to answer with a flat "no" and head home, but you should look at this part of the interview as one of your best opportunities to snag the job. Asking good questions during or at the end of the interview serves two purposes: it helps you discern whether you're a good fit for the company, and it makes you seem like a thoughtful candidate. And no, we're not talking about questions regarding vacation, lunchtime, and whether there are free snacks in the break room. It's possible the employer will bring up details about the salary or benefits, and if they do, it's fine to make a few logistical inquiries. However, you should really focus your questions on the company, the industry, and the specific responsibilities of the position you're applying for. This shows the interviewer that you're interested in more than just the paycheck — you're actually interested in bringing value. Here are a few thoughtful questions that Fajardo recommends asking:
What are some of the challenges that you're working on right now?
What is the one skill or quality you're looking for most of all?
How did the position become available?
Is the company growing?
To help you come up with questions, it may be helpful to actively take some notes during the interview. Of course, you don't want to spend the whole time with your head buried in a notebook, furiously writing down every word that's exchanged. But jotting down a few quick notes during your conversation will show that you are genuinely interested in the job and can help you remember questions you want to circle back to at the end of the interview (or in subsequent interviews).
Be Yourself
Some candidates are so busy cultivating a shiny, flawless veneer that they forget to be themselves during the interview. Yes, you want to maintain a polite, professional attitude, but you also want to be honest and give the employer a chance to see how you will truly fit into their team on a day-to-day basis. Keeping your personality hidden can feel like hedging your bet, but it could actually end up costing you your dream job, since 23 percent of employers say they will pass on a candidate if they believe they won't fit into their company culture.
Follow Up in a Courteous Way
Just as you shouldn't pester a company with phone calls about your application, you also shouldn't inundate them with questions about the position after you've interviewed. It's likely they interviewed many candidates before and after you, and you shouldn't have an expectation that they'll get back to you with their decision immediately. Depending on the size of a company, you may never hear back at all, and there's really not a whole lot you can do about it.
That being said, a non-intrusive thank you note after your interview is considered a common courtesy, and it may prove to be an easy way to set yourself apart from other candidates who don't bother. Don't call to express your gratitude – it may seem like a nice thought, but you're most likely just going to be an unnecessary wrench in someone's busy work day. Instead, write a brief, thoughtful email to the interviewer thanking them for the opportunity to interview. Make it clear you're still interested in the position, but don't push for a definitive response.
No two jobs or workplaces are exactly alike. You should always observe the vibe of each workplace and customize your approach to each interview, but these tips are a great way to help your prospects in nearly any situation. Just remember to prepare, be earnest, stay relaxed, and don't be afraid to be yourself. If you've made it to the interview, the employer already sees potential – now it's up to you to prove them right.
For even more interview prep advice, as well as expert guidance on what to do once you've gotten a job offer, visit CSCCR.org or check out this in-depth guide from Learn How to Become.
Article originally published by TJ Carter on April 28, 2015. Last updated LeeAnn Whittemore on February 15, 2018.
Editors' Recommendations