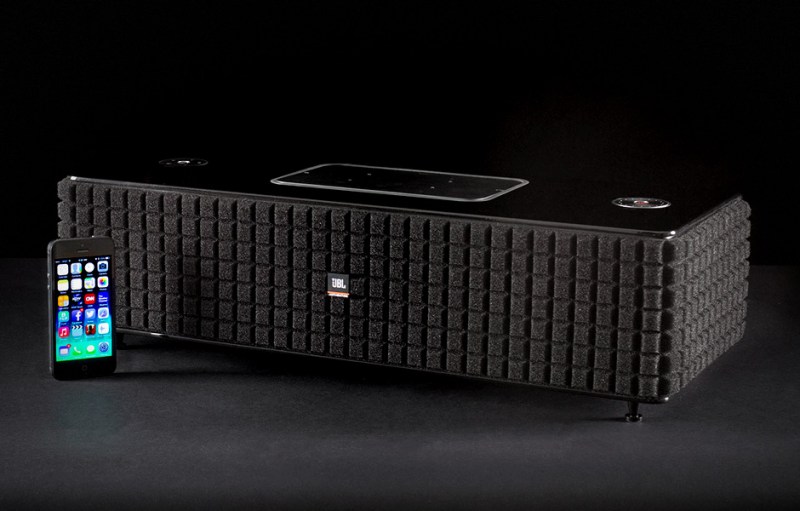 There's something inherently appealing about a piece of technology that points to the future without forgetting the past. JBL has taken that theme to heart with its new wireless speaker, the Authentic L8. An elegant, yet affordable way to get your musical fix, the L8 blends state-of-the-art wireless technology with a gorgeous vintage vibe to fill any room with sound and sophistication.
Inspired by JBL's classic 70's Century L100 loudspeaker, the L8 is crafted from a sleek wooden cabinet and loaded with quality components. Removing its retro waffle-style grill reveals a four pack of drivers, including a pair of 1-inch tweeters, and dual 4-inch full range drivers with gleaming white cones to recall the audio days of yore.
The system is driven by 120 watts of total power, which echoes through the well-built cabinet for a surprising explosion of sound. And while the L8 pushes more bass than a speaker this size has a right to, it also exposes an impressive amount of detail and refinement across the sound spectrum. Even your low-res MP3 files will sound better thanks to the L8's proprietary DSP.
When it comes to wireless connection, there are a host of ways to play, including Bluetooth, as well as Wi-Fi with both Airplay and DLNA support to hook up with nearly any PC or mobile device in your home. Additional connections include a 3.5mm Aux input, dual USB ports to charge your devices, and even an optical input for your TV or Blu-ray player.
Want even more next-gen tech? The L8 is available with a wireless charging pad that will charge Qi-compatible devices – just slap the device on the pad and walk away, no cables required.
The L8 comes in high gloss piano black, as well as a wood-grain finish, both of which strike a chic aesthetic that really ties the room together. But it's the sound performance that makes this speaker worthy of your hard-earned cash. For $540, the L8 will turn heads, and is sure to make a great addition for anyone who's looking for big sound in a small package.
Editors' Recommendations