When you think of shipping containers, do you think luxurious, ultra modern homes? Probably not. But Honomobo, a modular home building company located in Alberta, Canada, is looking to change that. Their series of homes, created entirely from shipping containers, is completely revolutionizing the modular home market.
Converting a shipping container into a usable space, either an office, store, or home, isn't a new idea. Ever since the housing market crash in 2008, people have been looking for affordable housing anywhere they can find it. Shipping containers became appealing because they are cheap, incredibly durable, and easy to convert into a useable space. The problem: they often still look like a shipping container. Not exactly the kind of space you want to call home.
Honomobo saw this glaring issue and rethought the entire conversion process. Locking them together like Lego blocks, the containers can be configured in a variety of layouts. They can be lined up in rows to create a sprawling, open concept space (like their H04 model) or stacked to create an ultra modern multi-level home (like the H08 model). From there, Honomobo goes to work converting the containers into sophisticated living spaces.
Once the containers are delivered to the site and hooked together, Honomobo outfits the space with all of the modern amenities and finishes one expects in a high end home. Vinyl flooring, sleek white cabinetry, and solid surface counters make for a beautiful, minimalist design that is durable and easy to care for. Honomobo also made sure their plans included plenty of windows, allowing natural light to flood the home – a far cry from the cold, dark space that comes to mind when you hear the words "shipping container." For the exterior, Honomobo provides a variety of color choices as well as an option to add a patio. The entire process, including obtaining building permits, takes just ten weeks – lightening fast in the home-building world.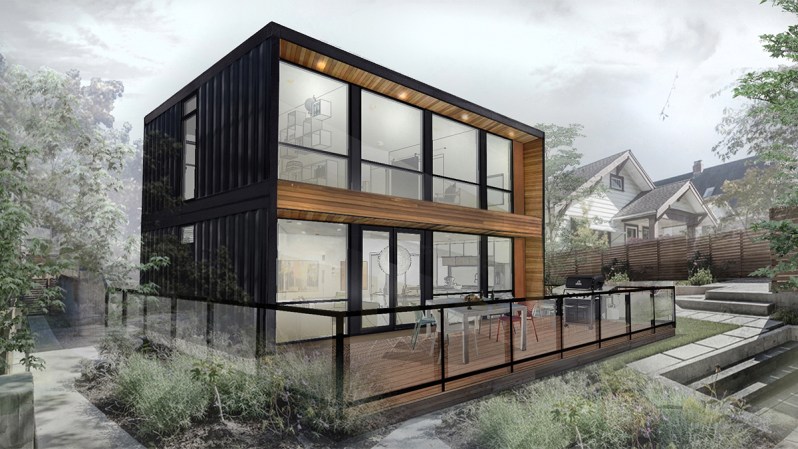 Social and environmental responsibility is one of the key elements of Honomobo's business philosophy, so along with being stylish, these homes are affordable and sustainable. By recycling old containers, construction costs stay low. All of the Honomobo homes are also outfitted with solar panels which is both good for the environment and your wallet. Even the insulation, a special closed-cell foam, is sustainable, keeping the interior a consistent temperature year round.
Honomobo didn't stop at homes. Their OBO is the perfect structure to use as an office, workshop, man cave, or pop-up shop. At around 100 square feet, it is small enough to fit in your backyard and doesn't require a permanent foundation. Just like the rest of their structures, the OBO is insulated, includes solar panels, and has the option to choose the exterior color.
Editors' Recommendations