A house to make grown men cry.
What would a home look like with no clutter? What about with walls that disappear into the outdoors beyond them? Nestled in the residential forested area of Rheder, Germany, the structure House Rheder II brings this concept to life thanks to the architecture genius of Falkenberg Innenarchitektur.
So stunning it won The American Architecture Prize bronze award for Residential Interior Design, House Rheder II marries the interior and exterior of living, with rooms that play up minimalism, the fusing of natural elements, and an overall aesthetic of calmness and light. Yes, that means none of your girlfriend's wine and painting pictures or mountains of shoes clogging the entryway.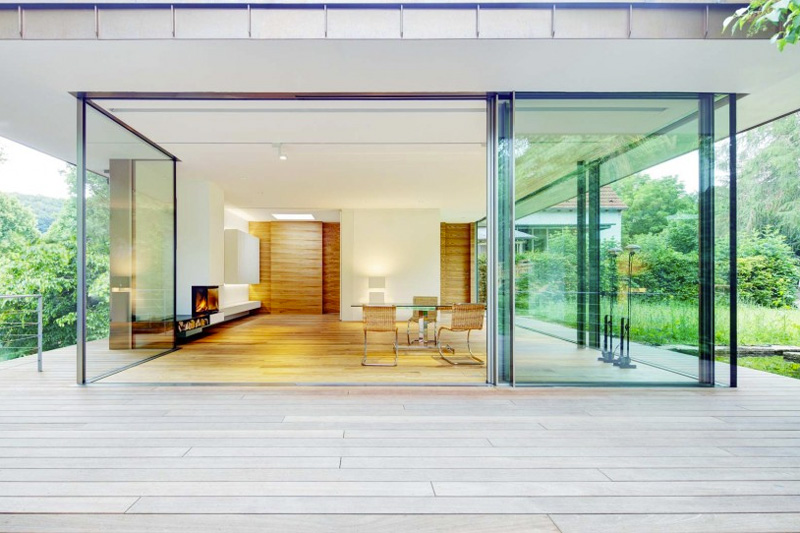 The main room of Rheder II is sparse and yet warm, as a long pool outside bounces light onto the ceiling within through the glass walls. A fireplace takes property over the opposite wall, built into the foundation. The tips of its flames match the creamy wood floors (reminding us of the class of Hudson Woods), which extend beyond the constraints of the house to form an outdoor patio over the rushing Nethe river.
The main room also contains a coffee-hued leather couch in the back corner (perfect for a glass of bourbon and NYT sports section) and a minimalist kitchen— hardly noticeable at first glance. Given the urge for more retreat, hidden sliding walls provide for flexible spatial arrangement within the layout.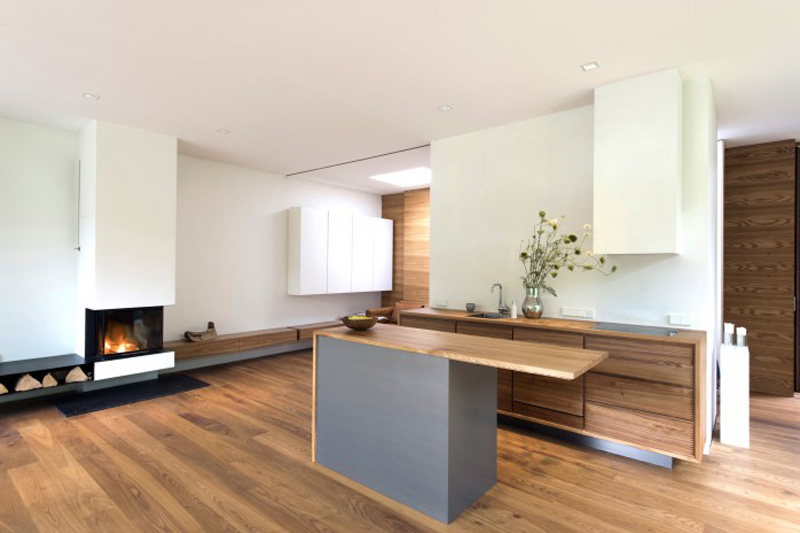 Once it's time to rest, the bedrooms are nestled through the main room, offering a secluded and restorative haven. Made to be a weekend retreat house, Rheder II hides itself within a brush of vibrant green trees and wildflower patches.
A case study in minimalism, House Rheder II is a refreshing journey back down to earth. And yet, through its architectural design, the house makes its surroundings look otherworldly— even celestial. The house makes us ruminate over what exactly it is we need to live, and live comfortably, while its clarity of form and function brings ease to the rushing to-do of everyday. (I've never felt so willing to turn off my MLB app notifications.)
Designers at Falkenberg Innenarchitektur— who are also commissioned for banks, law firms, public buildings, and hotels— say about their approach, "We work out the essence of objects."
In doing so, we resonate personally with their open spaces and natural light, feeling more ourselves. We never thought a simple house could make us feel so connected. It's ok to let out a tear. Real men feel, real men cry.
Photos courtesy Reimund Braun and Thomas Mayer
Editors' Recommendations