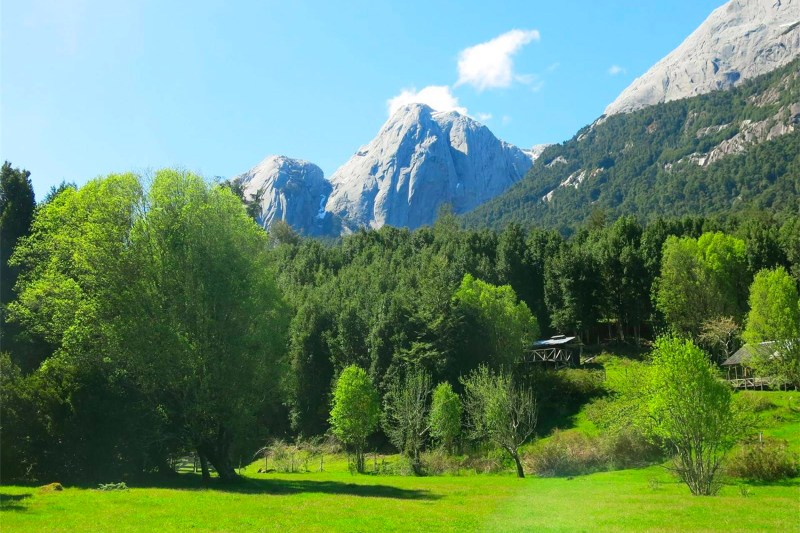 Most folks appreciate a little privacy at home. It's nice to be able to relax in your underwear while enjoying your morning smoothie or blast Kesha on loop without worrying about your nosey upstairs neighbors bitching to the cops. One newly announced, very private property in Chile all but guarantees your neighbors — hell, even the NSA and their arsenal of satellites — would never see you, hear you, or even be able to find you.
Patagonia is, hands-down, South America's wildest, most rugged, and most remote region. Here, in North Chilean Patagonia, lies Hacienda Pucheguin, a one-of-a-kind property encompassing 348,000 acres of some of the most breathtaking scenery on earth. This massive patch of land (roughly half the size of Rhode Island) has remained mostly untouched for centuries. Alpine lakes, millennia-old stands of Cyprus trees, crystal clear waterfalls, dramatic granite cliffs, glacial fjords, and 25 miles of pristine riverfront abound. Now, it could all be yours — for a price. In case your forthcoming tax refund is already burning a hole in your pocket, best guesses put the price tag somewhere in the nine figures.
Discovery of what is today Hacienda Pucheguin dates back to at least the 16th century. Less than one hundred years later, the land had been well-settled by Argentinian and Chilean pioneers. Fast-forward to the 1900s and the region had been established has a modest base of trade. Due to its vastness, remote location, and the difficulty getting to, from, and through the region, its economic usefulness was soon outgrown. Today, only a few disparate groups — descendants of the area's original colonial settlers — still call it home.
These days, it's hard to imagine anyone purchasing such a piece of land without the intent to commercialize it. It'll likely be acquired, thoroughly planned, and developed with luxury resorts and expedition tour providers. However, if you're the sort who appreciates nature, solitude, and adventure; if you're equal parts John Muir and world-class free climber Alex Honnold; or if you fancy yourself a modern-day Thoreau — it's nice to daydream and know that you could buy it all for yourself.
Pricing for Hacienda Pucheguin is estimated around $150,000,000, although interested parties must contact Christie's International Real Estate for a formal quote. If you're lucky (read wealthy) enough to snatch it up, we kindly request a modest finder's fee of just a few thousand acres. We promise never to call the cops on you.