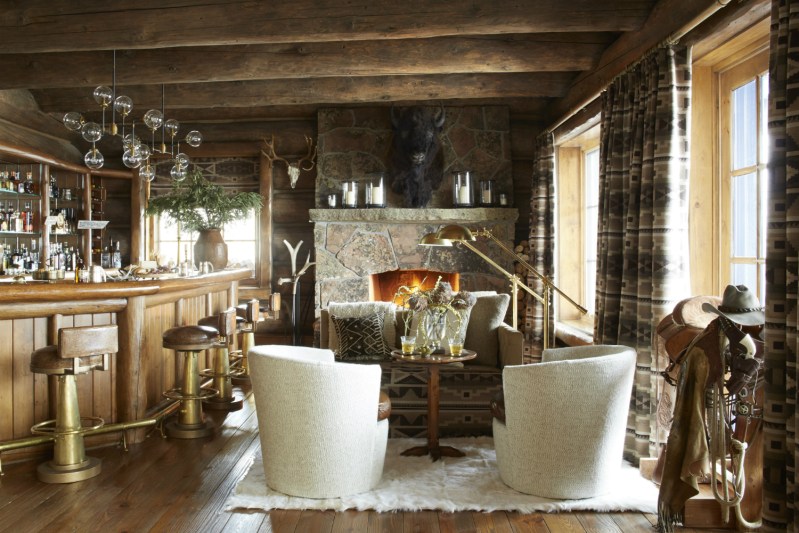 Most people know that your dollar goes further in depending on what part of the county you're in. So, it's interesting to take a look at how much house you can get for your money depending on where you're shopping. $50,000,000 is definitely a hefty price tag, but in crowded Beverly Hills, that "only" gets you one acre — barely enough space for the tennis court, swimming pool, and guest house. Why not invest that money more wisely. Like, say, a secluded property of 11,600 acres complete with 2 miles of riverfront, several lakes and ponds, a working ranch with 150 head of cattle, endless trails for horseback riding (horses included), and a sporting clay course. All that and we haven't even gotten to the house yet.
Pro golfer Greg Norman and his wife, Kirsten Kutner, have put their property Seven Lakes Ranch on the market for a sweet $50,000,000. Seven Lakes is an outdoor enthusiast's dream come true. Located in Meeker, Colorado, the property offers pristine wilderness, stunning views, and countless opportunities for exploring, hunting, fishing, and hiking.
Along with everything already mentioned, the property is surrounded by White River National Forest and includes a fitness center with spa, a historic dance hall, and several ancillary buildings like a four bedroom house used for hunting, and six guest cabins. And we still haven't gotten to the main house yet.
While the property offers endless outdoor activities, the house itself is just as enticing. Built in 1993, the main lodge has an upscale log-cabin vibe. Constructed of log and stone, the home overlooks Seventh Lake and the rolling mountains beyond. The massive property sprawls out among extreme elevation changes, which provide beautiful views from the main lodge's stone patio and pristine lawn.
Inside, the main lodge was recently redesigned by Kirsten. The home now offers a more contemporary mountain style. Rather than dark and filled with flannel typical of western mountain homes in the past, the spaces are bright and inviting. Inspired by nature with just the right amount of rustic touches, the decor lets you know this is a home in the woods. A few feminine accents like white upholstered seating in the great room and linen drapery add a soft and warm contrast to the stone and wood. Classic hunting lodge details remind you this is elk country, like the impressive chandeliers made from antlers.
At 13,907-square-feet, the main lodge has plenty of room to spread out. With eight bedrooms (plus a bonus room for staff), there is enough room to sleep up to 16 people. There is also a great room with 30-foot vaulted ceilings, a commercial-grade kitchen, a multi-table breakfast room, and a Western bar and lounge, oh, and a wine cellar of course. A property this size would be impossible to maintain on your own, so it includes a full-time staff of five employees to help manage things.
It's a truly impressive, once-in-a-lifetime opportunity that Norman and Kutner are offering. At Seven Lakes Ranch, you can live a different life every weekend -,
For other lavish estates, check out this one with a full go-kart track.
Editors' Recommendations