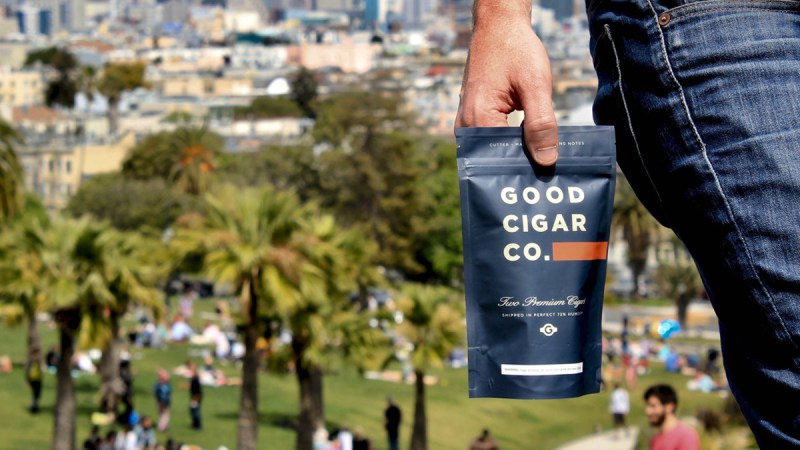 There is little joy in this world as pure as a good cigar, a good drink, and a good friend. Throw in a porch and you've got happiness in between your fingers. Good Cigar Co. is designed to help you have this experience as often as you like with little to no effort on your part. Well, you have to supply the friend and porch…
"I love how cigars bring people together, says Will McQuain, founder of Good Cigar Co. "It's uncommon for men to just sit down for an hour and talk, but cigars force you to do exactly that. I find that it really brings out this thoughtful, pensive side of people, and it's really difficult to have a bad conversation over a cigar."
The concept of Good Cigar Co. was really born in his sophomore year in college. McQuain started selling them on campus and was shocked by the amount of interest and how much he sold. "I discovered that lots of guys were interested in the occasional cigar, but no one really knew where to start. Buying cigars and knowing how to smoke them is intimidating – and it doesn't have to be."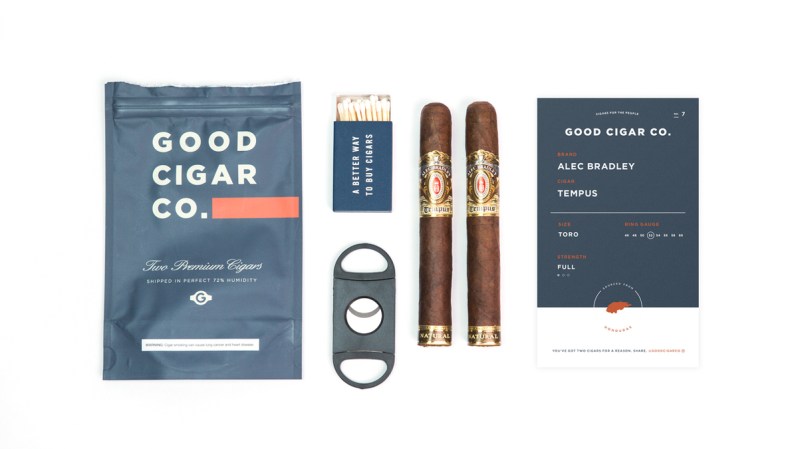 That's the core tenet of Good Cigar Co.: Make cigars accessible to everyone. Simply tell the website what kind of intensity you're looking for– "Casual," "Classic," or Aficionado," and their experts will scour cigars to find you the perfect fit. "One of the reasons people don't like cigars is because of a bad experience," McQuain says. "It's typically the result of choosing a strong, full-bodied cigar when you're not ready for it. Our goal is to guide people through the process, from truly enjoying their first cigar to becoming an expert. We also provide space for custom messages in the checkout process, and we encourage people to share more information that we can use to curate something for a specific occasion."
But how do you know what you like? What separates a good cigar from a great cigar?
McQuain likens it to wine. "People often use price to estimate quality, and while that's a decent barometer, it's far from perfect. As with wine, you should try different things to understand the huge variety that exists across different blends, and at the end of the day – you like what you like. Ultimately, a great cigar is the result of ferocious attention to quality in every step of the process."
Some of their cigars you've probably seen in your local tobacco shop, but they also source rarer and harder to find stogies. "We're especially fond of Nicaraguan cigars, but we also carry blends from Honduras, the Dominican Republic, West Africa, and others. Given the existing laws, we can't carry Cubans yet, but we'll be ready when that changes."
You're not just getting two, handpicked, carefully curated cigars– Good Cigar Co. gives you everything you need to enjoy them. You also get a double-guillotine cutter, matches, a their "How to Smoke a Cigar" guide as well as tasting notes on the cigars chosen for you. And their blog will offer suggestions on drink pairings– apparently good options run from whiskey to red wine, and even a personal favorite of McQuain's, cream soda.
Good Cigar Co.'s humidity-sealed packaging acts as a humidor, keeping your cigar fresh for three-plus months! "We're excited to be the first cigar pack that doesn't require a humidor. If you give a celebratory cigar to someone who's just had a baby, you're effectively saying, 'Congrats! You'll need to smoke this in the next two days or place it in your humidor, otherwise it will dry out.' Since very few people have a humidor, this offers a much better experience all around." Well played, McQuain.
A one time order for this impressive package is only $25; a three month subscription runs you $65 and 6 months is just $125. All the prices are the same regardless of the intensity level you choose. Good Cigar Co. even has a Bachelor Party option where you can get custom orders.
If you've ever wanted to learn more about cigars or just want to find a new favorite, Good Cigar Co. is destined to be your favorite new tobacconist.
Editors' Recommendations