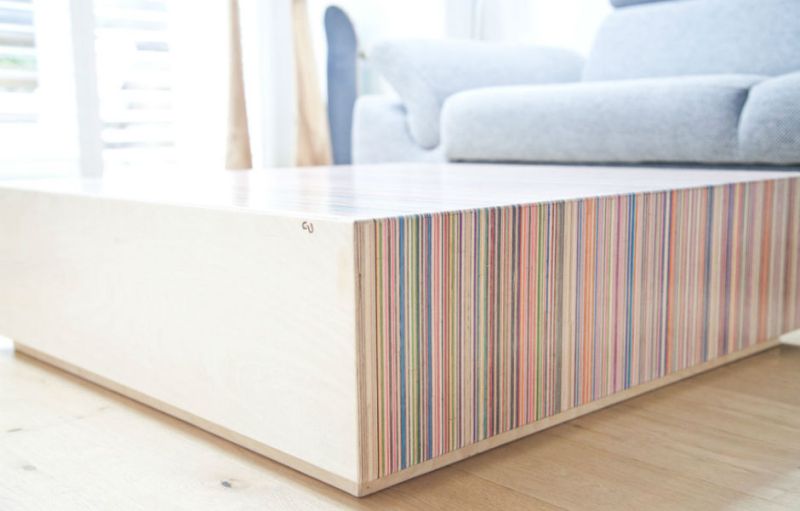 Skateboards aren't just for grinding on the concrete and rolling around the city…they can also be used for…furniture! The folks at Focused came up with a new concept that takes old skateboard decks and turns them into coffee tables they call the DecksPad and the DecksTop for your home.
"The inspiration for the design of this coffee table is a skatepark object called a 'manual pad.' With its bright colors, the DecksPad™ will lighten up every living room," says the label. "Strong enough for manual tricks, but more suitable for supporting your espresso. The top-, front- and backpanel are constructed from recycled skateboard decks collected at local skate stores and factories around Europe. The sidepanels are made from sevenply birch. We work only with worn-out skateboards and wood that has a sustainable forestry label."
The DecksTop, on the other hand, takes its top from salvaged skateboard decks, making for a look unlike any other coffee table.
Focused makes sure they salvage skateboards that are made from seven-ply Canadian maple wood, one of the strongest on the market. The tables get their color from the designs of the skateboards, ensuring that each table gets its own, unique look. The DecksPad and the DecksTop also comes in numerous sizes, so you'll be sure to find one that's perfect for your living room or office.
So now you're no longer using skateboards for riding, they also can be used for decorating your home.

For more information, visit focused.nu.
Editors' Recommendations