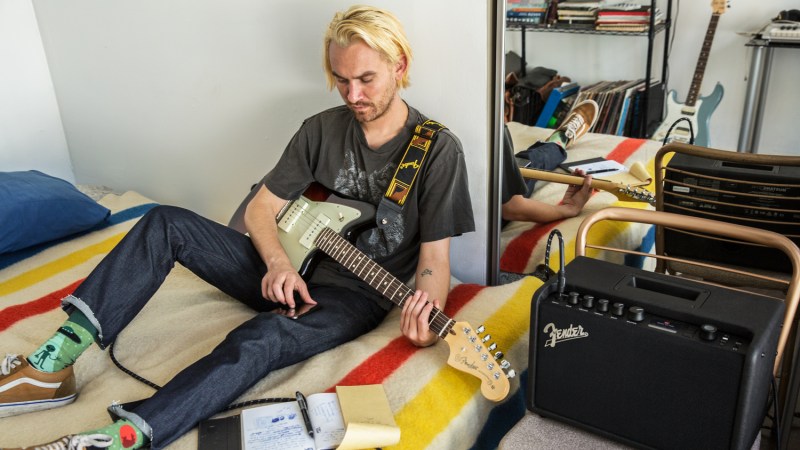 Fender knows a thing or two about making guitar amps, but for its latest release the company has gone high-tech. Fender's latest project is also its smartest guitar amplifier line ever, aiming to help those in search of classic vintage-tube amp tone, but who don't have the dough to buy the real thing.
An updated version of its popular Mustang GT line — among the best-selling lines in the company's seven-decade history — the new amplifiers feature both Wi-Fi and Bluetooth functionality, and can be controlled via the free Fender Tone app.
In addition to modeling the sounds of some of the company's most famed tube amps, many of which cost thousands of dollars, users can use the app to add effects like reverb, tremolo, and many other outboard pedal sounds. You'll even be able to choose where each pedal occurs in an effects chain to model your own sound. As a bonus, the amps can also serve as Bluetooth speakers, allowing you to play along with your favorite tracks, or simply jam out.
Once a cool tone has been found, you can then save and share your presets with friends via the Fender Tone app. This marks an unprecedented ability to dial in a specific tone, letting you model the sounds of your favorite musicians and recordings. Fender has already partnered with famed musicians to capture their ideal tones and share them with Mustang GT users. In addition, the internet connectivity means that the new Mustang GT line can receive firmware updates, meaning that the line's modeling will only improve over time.
"Fender Tone is the second release in Fender Digital's suite of applications, and the first hardware companion application we have developed," said Fender's chief product officer, Ethan Kaplan. "It, alongside Fender Tune, aims to accompany players at every stage of their musical journey. Now, with artist-curated presets from Josh Adam Klinghoffer of the Red Hot Chili Peppers, Gary Clark Jr., and Anthrax's Scott Ian — channeling your favorite song or band for some added inspiration has never been easier."
Musicians who play live will also love that the amp can be pre-programmed to execute live presets, allowing you to create major tonal shifts between songs with the simple press of a foot switch or button.
The new Mustang GT line comes in three sizes, including a small 40-watt amp designed for bedrooms, as well as both 100-watt and 200-watt variants for studios and stages. Prices run from $250 to $600, depending on the size, which is pretty affordable considering that the classic amps being modeled often sell for thousands of dollars each. The free Fender Tone app is currently available on the Android and iOS app stores.
More information regarding new line of Mustang GT amps and the Fender Tone app can be found on Fender's website.
A version of this post first appeared on our "brother site," Digital Trends.