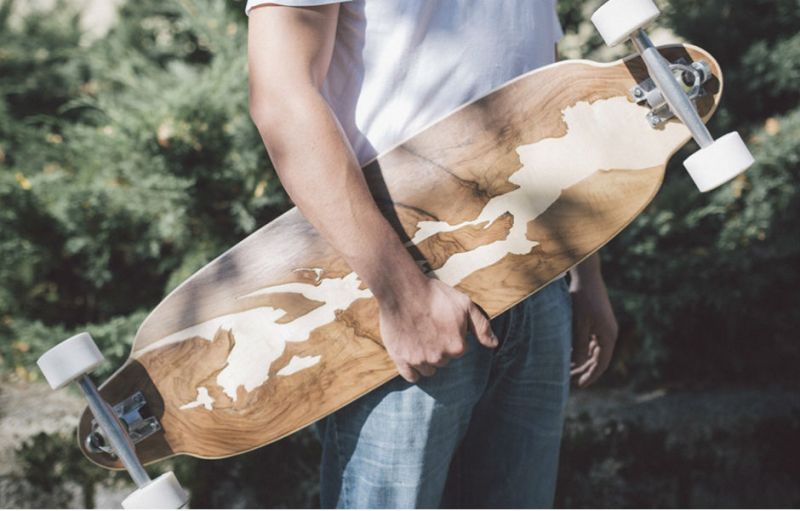 Do you still use skateboarding as your normal mode of transportation? Are you looking for a board that's a little more unassuming than your standard skateboard with flashy graphics? Check out Murksli skateboards. The company was founded in 2009, and is currently based in Slough in the United Kingdom. Each longboard is handcrafted from mountain maple wood, and then covered with walnut-tree root layers, giving it a more refined look that is perfect for cruising around the city streets. Here's a rundown of of their board styles:
–Murksli KRUZER is our most versatile shape. A longboard by its size with a distinctive and convenient tail. Made for city cruising as well as for some hill-bombings.
–Murksli SLIDER is a well-balanced and responsive freeride board. Whether you're doing powerslides or just cruising around, Five will give you an amazing all-around control over your ride.
–Murksli ERA is inspired by the golden-era of skateboarding. It's our take on the skateboard shape of the '80s. You can cruise, ride pools and basically do any trick with this little baby.
–Murksli MIKRO is a perfectly shaped street cruiser. Ideal length with the right amount of concave and subtile, rounded tail makes sure you'll be cruising the streets in full control.
–Murksli DROP is our take on the pintail longboard shape, designed for joyful carving and cruising. Its surf-inspired slightly concave shape gives you extra grip and control. Ideal for beginners who want to learn how to ride those concrete waves.
So if you're in search of super cool longboard, may we suggest getting a Murksli?
For more information, visit murksli.com.
Editors' Recommendations