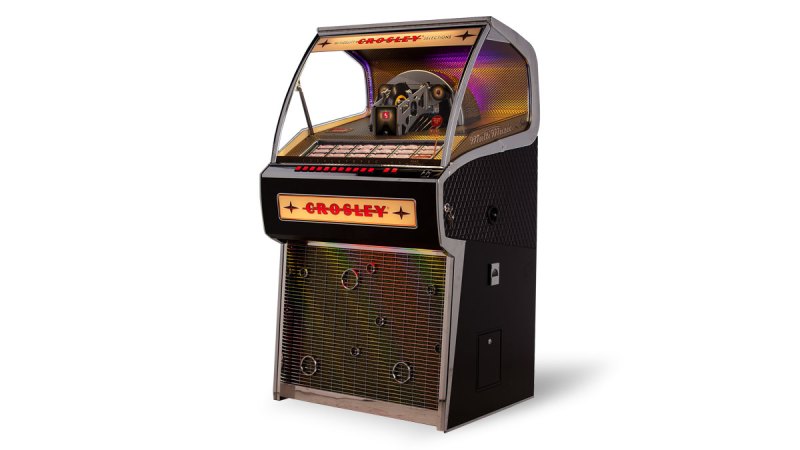 The vinyl record has gone from niche collector hobby, to nearly breaking back into the mainstream as the physical media format of choice. Chances are you probably have your own collection of vinyl records to show off. However, an iconic facet of the vinyl record era of yore that has been absent from this revival is the jukebox. Sure, there are CD and digital format jukeboxes in many a dive bar across the world, but they're not the same as a vinyl player. However Crosley Radio, which has been around in some form since launching its first radio back in the 1920s, is changing that. The company is expanding its jukebox lineup with the Vinyl Rocket, a fully functioning vinyl hub that will take you back to the days of the sock hop.
The Vinyl Rocket not only represents the first vinyl jukebox in the company's current catalog, it's also the only vinyl jukebox in production, period. You'll pull in some serious cred sporting this in your entertainment room or drinking establishment. The machine is capable of holding up to 70 seven-inch records, and can play both A and B sides thanks to what the company calls a "unique rotating vinyl mechanism" for a total of 140 possible selections. That's an impressive collection on demand, but nostalgia factor aside, the question is: How does it sound?
According to Crosley CEO, Bo LeMastus, "the Vinyl Rocket was created with the most devoted audiophile and collector in mind." It's equipped with a five-way built-in speaker system that includes two mid-range drivers, two tweeters, and a 12-inch twin cone bass speaker, all powered by a D4 digital amplifier with independent stereo channel outputs. All of this is built by hand in the U.K., and each unit is individually numbered. Like we said, serious cred.
To bring the glowing beauty into the 21st century, Crosley has outfitted the Vinyl Rocket with a welcome smattering of modern features. The jukebox features a Bluetooth receiver for streaming from smartphones and other mobile devices. It also features an auxiliary input for wiring in directly and output jacks for connecting supplemental external speakers. Along with the classic button controls, the machine can also be operated via voice control thanks to a microphone input, and it comes standard with a remote control. For browsing your tunes once your collection is loaded in, the jukebox has special software that enables you to create labels for each record you add.
The first place that comes to mind for a jukebox like this would obviously be an Oldies bar or restaurant. But if the Vinyl Rocket sounds like something you'd want in your home, you're in luck; the Vinyl Rocket has the ability to be set to either coin op or free mode. After all, who'd want to have to pay to listen to listen to their own jukebox?
Even if you're not paying for each spin, though, you'll still need to fork over some serious dough to land the Vinyl Rocket. It's currently available from Crosley's online store for $11,996. If you need some help bolstering your vinyl collection in anticipation, Crosley has a selection of popular classic records on its website.
A version of the article also ran on our "brother site," Digital Trends.
Editors' Recommendations