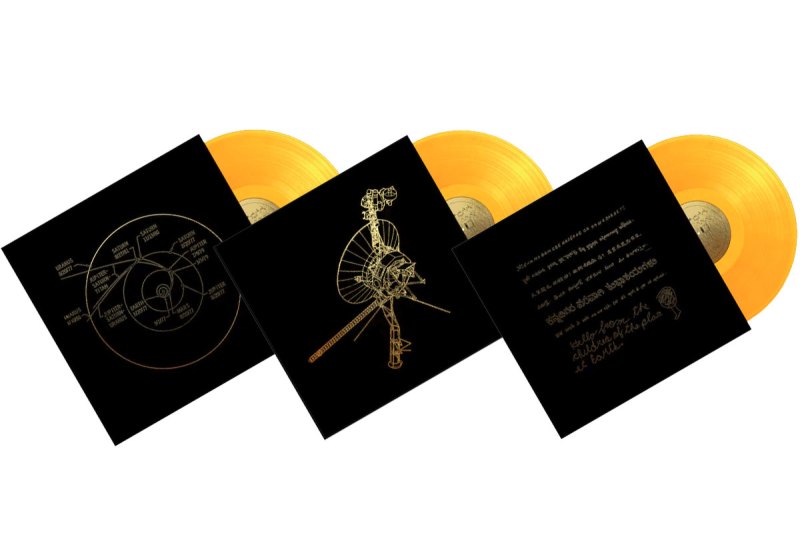 Celebrate America's Space Program with Galactic Golden Vinyl.
The '70s were a crazy time. America was booming and there was no better place to look than our space program. In 1977, NASA launched two unmanned spacecraft, Voyager I and II, with one goal: go as far as possible into the depths of our solar system, further than any spacecraft had gone before.
Among other things on board, NASA mounted one golden disc to each spacecraft known as The Voyager Golden Records. Each one contains a myriad of sounds and images showcasing our planet's cultural dynamism. Everything from Chuck Berry to Azerbaijani bagpipes was selected on the off chance that extraterrestrial life somewhere thousands of lightyears away may hear it at some point in the distant future. Both spacecraft are still in contact with NASA's Deep Space Network and Voyager I entered interstellar space about two years ago (that's almost 13 billion miles away from Earth).
As we approach the 40th anniversary of the Voyager launches, new label Ozma Records has created a limited run of Voyager Golden Record copies so you too can enjoy what our outer space brethren may be hearing. They've worked to make the audio as authentic as possible, bringing in the Record's original producer to oversee the remastering of the audio onto vinyl. Talk about nostalgia.
While the copies are not real gold, they are made of translucent gold vinyl in a handsome cloth box set. Each set is three LPs of Earth's greatest hits and includes a digital download card for everything. Your next party playlist can be bound together with a variety of United Nations greetings along with a Peruvian wedding song
As if that wasn't enough, the set also includes a hardbound book detailing the history and provenance of the Voyager program along with more details about the Golden Record.
There's still time to grab your collection at their Kickstarter.