Cats know, cardboard is cozy. And it turns out, cardboard makes a great building material. Just ask the fine folks at Fiction Factory. They spent four years developing a special manufacturing system to turn cardboard into one-of-a-kind prefabs. The result is Wikkelhouse, and it's amazing.
Created from 24 layers of wrapped cardboard, the Wikkelhouse ("wikkelen" means "wrapping" in Dutch) is the ultimate eco-friendly building design. The homes are 100 percent recyclable should you ever decide you don't need it anymore. On top of that, cardboard is an excellent insulator, reducing the need for heating and cooling systems.
How does a cardboard prefab hold up to the elements? Fiction Factory says that it can withstand strong winds and has a life expectancy of 50 years. Layers of foil and wood cladding help protect the structure from adverse weather.
Wikkelhouse is built in segments that measure 53 square feet. Fiction Factory offers a variety of segments that are joined together, making these structures completely customizable. The lightweight sections make for easy transportation to your site and no foundation is needed. Buildings typically go up in a day or two. You can piece together as many segments as you want to create a structure to suit your needs.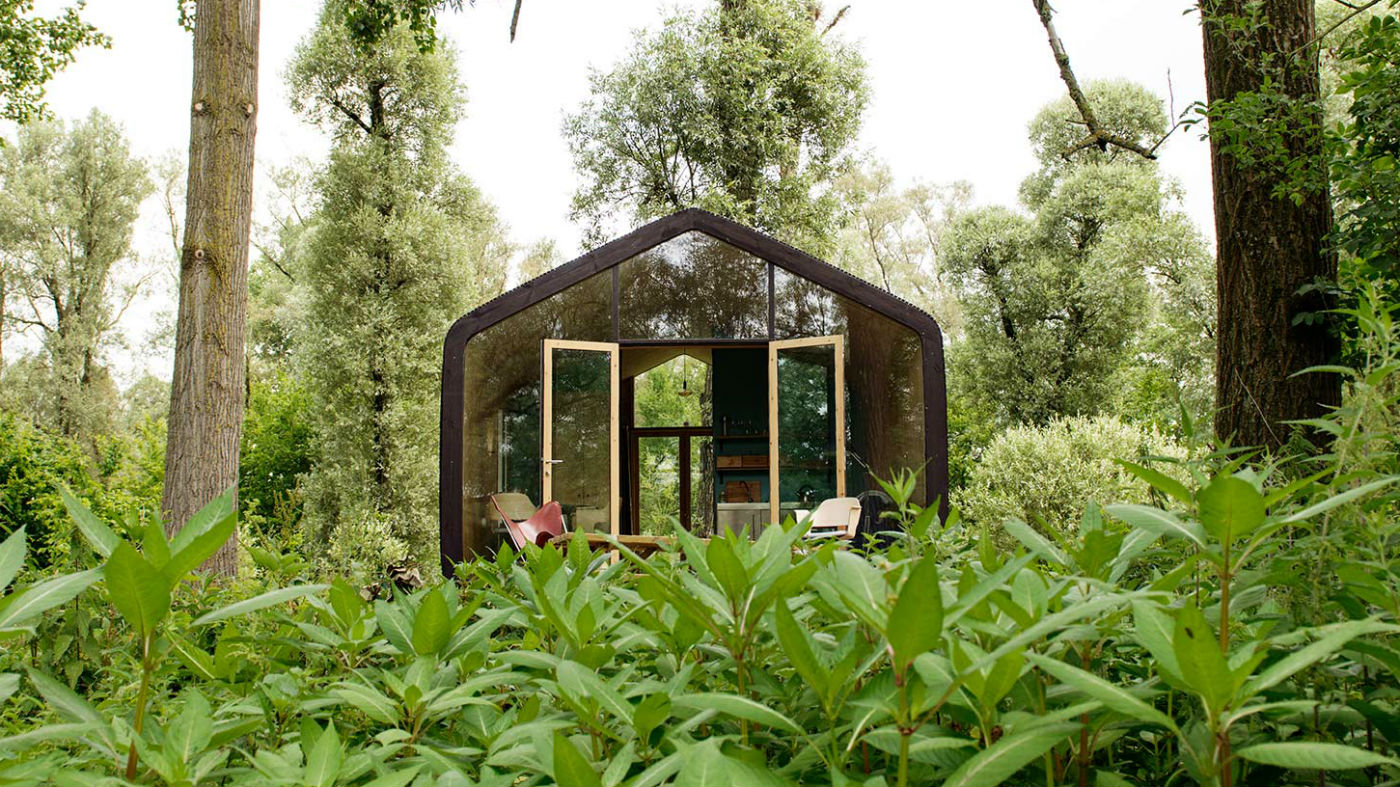 Choose the "Window" segment which, combined with the glass facade, allows for maximum natural light to fill the space. Add in a wood stove and chimney for extra warmth on chilly nights. The "Home" segment is outfitted with a kitchen that has plenty of storage, as well as a sink and an electric cooktop. The "Home" segment also includes a bathroom with a shower and composting toilet. There is even a balcony add-on that lets you create the perfect outdoor seating space.
From an office to a workshop to a guest house to a vacation cabin, the Wikkelhouse can be whatever you want. The exceptional acoustics of cardboard mean that you could finally build a practice space for your band without worrying about disturbing the neighbors.
While not available in the United States just yet, Fiction Factory is continuing to develop their Wikkelhouse and working on streamlining production. The company currently builds just 20 houses a year and there is already a growing waiting list. We're crossing our fingers Wikkelhouses will make their way here by 2019.