Escape the living room in this Star Trek-meets-Castaway hideout. Designed in the United Kingdom and built in Maine, Archipod (pronounced "ar-ke-pod"), is changing the shape of the traditional man cave, home office, or guest room through pod-ifying.
Yes, there's something beautifully rebellious about the way Archipod and its designers at Podzook have thrown conventional walls to the wayside. For a better look, open the top hinged gull-wing door to enter this sperical space and close yourself away from the rest of the world (weatherproof seal included).
Initially, the Archipod was created to solve the problem of commuter culture and increase the ease of working from home. Anyone who's worked from the comfort of their casa knows it can be difficult to stay focused with the remote and fridge within reach. By providing a secluded workspace in the backyard, Archipod offers much-needed separation between "work time" and "family/home time."
Although designed for work, we can think of other reasons to escape for some time alone to re-center and rejuvenate (like watching the game). Conveniently, these pods can also be used as an aforementioned man cave (just because you go into the office Monday-Friday doesn't mean you don't need your own pod), playroom, studio, meditation or quiet room, outside dining room, or guest bedroom.
Archipods come with a big price tag, but it's well worth the $20,000-$40,000 investment because these pods have the potential to save on commuting time and costs, reduce road congestion, and lower the cost of home heating bills — not to mention get your visiting mother-in-law off the couch and into her own space. In fact, the modern yet warm aesthetic of the Archipod may have you offering up your bed for the comfort of the other-worldly dome, which literally feels like you're floating calmly through outer space.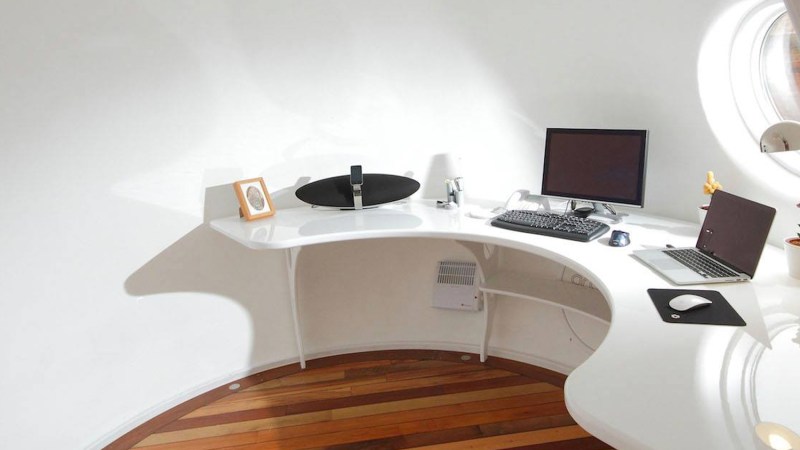 Because of its range of uses, all Archipods are built to order and can be tailored to suit your requirements. Typically they include a curved plywood structure with encapsulated fiberglass insulation, plasterboard finish on a high-performance foil insulation and vapor barrier, and decorative external cladding in Western Red Cedar shingles, available treated or untreated.
Inside the pod, a circular roof porthole window lets in natural light from above, which makes all the difference inside the otherwise window-less bunker. You can accessorize the interior with an ergonomic semicircular desk, drawer units, shelves, and seating by special request (although we might ask for a TV, couch, and mini fridge, and call it a day).
"Flooring is generally not included," says the Archipod designers, but "we can provide fitted carpet or carpet tiles if required." So fluffy carpet it is! Concrete foundation blocks are also included.
As for connecting, Archipod is wired with dimmable spotlights, power outlets, an electric panel heater, and a data outlet for phone lines.