A while back we did a post on wood burning fire pits to make your backyard the ultimate summer relaxation spot. Today we're here to introduce you to something with a little more utility and innovation: the Tole Garden Fire K60.
This creative take on a backyard barbecue exudes the smell of burning firewood, exerts the same sense of warmth and pleasure, but as Tole says, "Is more than a wood fire."
To answer this, follow us into the highly functional depths of the Tole Garden Fire K60 — or the next social accessory you should bust out for year-round outdoor meals.
Tole prides itself on making resilient outdoor products with longevity and the K60 doesn't fall far from the tree. Made with Naval Grade, Corten steel, this multi-functional fireplace is both built to last and look better with age. Over time, the Tole Garden Fire K60 will start to collect a robust and handsome copper-like appearance.
Not only does this provide heat for when the sun goes down, it's innovative vertical design and meticulous cooking accessories allow for grilling or smoking your favorite meats, teppanyaki (Japanese iron griddle style), wok, and raclette (aka melted cheese).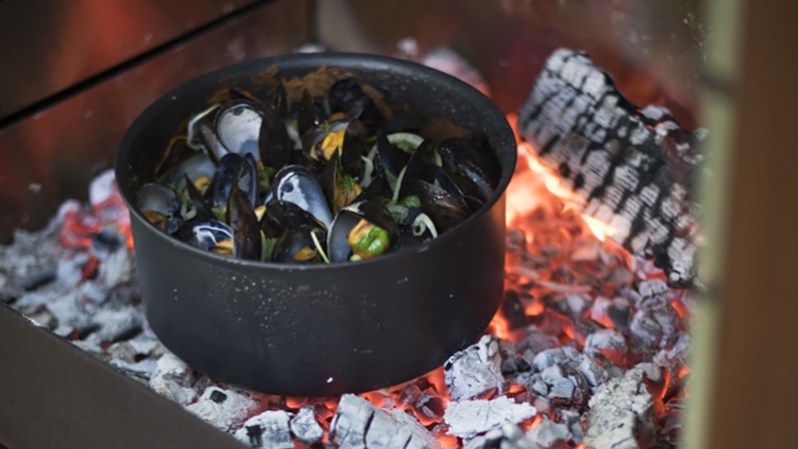 These accessories offer an array of options for you to impress your guests. Whether you want to grill up a tri-tip steak, smoke a couple of salmon, or enjoy the fresh and fiery experience of teppanyaki, Tole has you covered.
The stainless steel hearth makes for utterly easy maintenance, so give it a quick clean after every use for the best flavor and results. And for your wood supply, the Tole Garden Fire K60 provides an underneath storage area, as well as hacking accessories that can be purchased separately. For instance, you could grab the tower's twin for extra log storage.
Tole Garden Fire K60 £2,295.00