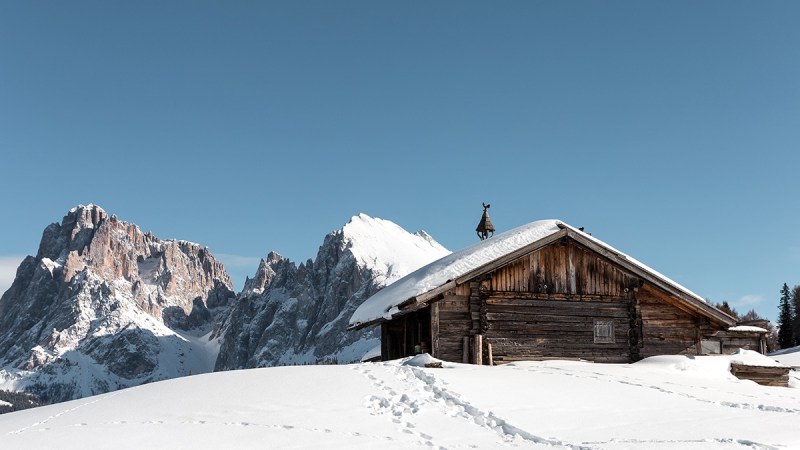 If you're like us, you've spent your fair share of time scrolling through dreamy Instagram images of cabins, A-frames, tiny houses and other compact woodland retreats. Whether perched on a mountainside, tucked away in the woods or overlooking a body of water, these places tantalize with the luxuries of the simple life: watching a sunrise melt the morning fog, listening to rain patter on a tin roof, waking up with the scent of wood smoke in your clothes.
Alas, most of these images are good for daydreaming only — few offer details about where the cabin is located, or whether desperate urbanites like you and me can go there. However, all that changes this month, with the advent of Cabin Escapes, a curated directory of the world's most fetching faraway retreats.
Created by two of Instagram's finest cabin connoisseurs, Lindsey Bro (@cabinlove) and Alice Saunders (@forestbound), Cabin Escapes is a lot more than just a cabin-specific version of VRBO. It's a carefully chosen collection of small, secluded dwellings that have been vetted for good design, appealing setting, and that certain je ne sais quoi that shows even through a pixillated screen.
We talked with the lovely Lindsey Bro to hear more of the Cabin Escapes backstory, get the scoop on where it will go from here, and find out just what has made cabin culture so hot right now.
The Manual: How long has Cabin Escapes been in the making?
LB: Individually, we'd both been thinking about it for a while. We both get asked constantly about our cabins on Instagram, "Where is that? How do we go there?" There are so many sources for cabins and so many frustrations in sorting through them. We saw the need for a solution and we had a huge resource for it. We met in January this year, started working on it in February (in a cabin in the desert), and we started putting it together in April/May.
TM: What is Cabin Escapes, and how does it work?
LB: Right now, Cabin Escapes is a collection of cabins and other structures that we've been to, or people we know have been to. But the idea has always been that it would grow as people submit their cabins to us. We want it to be constantly growing and evolving. As soon as people realize it's there, I hope we get flooded by even more amazing spots.
LB: We were noticing a lot of credit for these images goes to the photographer, but there's an actual person who owns that structure, who might be trying to make some meaningful dollars off it so they can continue to afford it. So we wanted to create an access point to these places. Instead of simply getting a photographer a lot of likes, it's even better to also support the person who owns this cabin. They deserve it for the work they've done to create a wonderful experience and memories for people.
I think with social media culture, there's this tendency to hoard secret spots or information. I absolutely agree that there shouldn't be an overexposure of magical, impressive places. You should put a little work into finding that secret spot—it shouldn't all be blown up all over the Internet. But also, cabins are an amazing viable side business for a lot of people — by being able to rent them out and make them special, people are able to attain this dream of a place far away, while giving others the option to enjoy it, too. There are so many algorithms — I want to disrupt all that and let these cool places get in front of people.
TM: How did you and Alice become such experts on cabins?
LB: What is it, 10,000 hours? We've spent a lot of time going to (and trolling through pictures of) cabins, tree houses, structures that fit our idea of a cabin escape. We're always looking for places to go to—we love searching for new cabins. And it's not just a cabin—it's an experience. There are so many sites listing cabins for rent, but there's nothing that vouches for the places that are really good. It's all about finding what fits the vibe that you're looking for. When your friends ask you for a cool place to go, how do you break it down for them? You might tell them that the listing says it fits six, but it's better for two. Or this one is good if you want a quiet escape, versus a family reunion setting.
TM: What are the criteria for cabins that get included in the directory?
LB: There are so many different ways to be a cabin, a treehouse, a lodge, a loft, or this, that, or the other. There's no strict structure around the architecture, how many it sleeps, the price point, etc. We're just asking, "Is this a really great experience? Does it match up with the idea of an escape?"
"The look of the place needs to be interesting and, of course, a bit photogenic, and that can mean hyper-rustic to extremely modern."
In general, it has to have pretty good design — neither of us wanted to include places that are weird, dirty, or full of your aunt's old furniture. The look of the place needs to be interesting and, of course, a bit photogenic, and that can mean hyper-rustic to extremely modern.
There's not a hard and fast list of which cabins make the list. We just ask if it seems like it would be a really cool place with really cool stuff around it. Does it match what you would want when you go to this type of place? Does it communicate a specific type of experience? Whether it's a place where you can enjoy an amazing view from a hot tub, or have a sauna, or sit out on a porch and have wine with your friends, it should offer an experience separate from normal life, where you can recharge.
TM: Where is one region you still have yet to explore?
LB: I want to explore more internationally. Cabin culture around the world is so fascinating and absolutely universal. I want to explore those places so much more and help give them a bit more of a light.
TM: What separates a pretty good cabin experience from a phenomenal one?
LB: It can be so many different things. If you go to a place and it just doesn't match with the photos, or it's really dingy or dirty, that's an immediate letdown. You don't want to have to make the best of something. A pretty good experience is when it has the right character, look, etc., but it doesn't have a spirit, a little bit of a soul to it. I think it's obvious when someone has designed a cabin that is just meant to be a rental, versus when they've created a space for an experience. That's why it's so much more than the photos you can take of it.
https://www.instagram.com/p/Bge-WTXFVvU/?taken-by=cabinlove
For me, cabins are about a way to connect, whether it's with myself, with nature, with the friends who come with me. Some places make it very easy to connect—they're so inviting and hospitable, they're close to hiking trails, they have an amazing wood stove where you have to build the fire and cook your food, etc. That invitation to experience this little microcosm that they've created, those are the ones that stand out. A place like that makes you forget the world outside as soon as you step into it. It allows you to lose track of hours in the day or stresses that you carry, and lets you be really present. The ones that facilitate that connection, even more than design, are what make the difference between a good experience and a great one.
TM: Give it to us straight: What is it about cabins right now?
LB: Everybody has this little bit of nostalgia about a cabin, or the idea of one. It might be your family's summer cottage at the lake, that treehouse in your backyard, or maybe just a dream you've always had of having a little place far away. I think, as a generation, we're far more into seeking experience over material things. Our lives are very demanding, and that's not a bad thing, but we want to find this balance between what's important and what's not. A cabin is an excuse to go do something, to connect, to have it all figured out within a little space during the time you spend there. The potential for it to be a sanctuary, for bringing someone you love, family and friends, is amazing.
"I think a cabin is a very attainable dream, whether you want to build one, buy one or rent one, it's possible."
I would post these images on Instagram, and people would tag their person underneath with captions like "Someday" or "This is what I want." It was the sweetest thing. I think a cabin is a very attainable dream, whether you want to build one, buy one or rent one, it's possible—even just a weekend away, you can slip out and make it happen.
Also, there are no rules to a cabin, so they are often very striking structures. An A-frame with those lines and angles that go so distinctly against the vertical lines of trees. All the interesting, subtle variations of the iconic traditional log cabin. Often these structures are set up to be part of nature, instead of separate from it—they ask you to be part of nature with them. The journey, the escape, the sense-memory, the weather of wood, the moss on the roofs—it's this ephemeral thing. Having that longing for it, once you get it and realize that it's easy, of course you'll want to keep going again and again.
We don't want there to just be this objectification of cabins. We want people to actually go and experience what it really is. You're going to be a better person for it.
Editors' Recommendations