A fresh new line of speakers from acclaimed manufacturer Bowers & Wilkins will bring technology from the costly 800 Series Diamond line to those with thinner pocketbooks. Called the Bowers & Wilkins 700 Series, the new line features nine new speakers that range in size from large floor-standers to small, stand-mounted options. The 700 Series replaces the CM Series 2 as the mid-cost contender in Bowers & Wilkins overall speaker range.
Audiophiles will be excited to learn that every model in the new 700 Series features the same Continuum cone technology that the company debuted with the 800 Series Diamond speakers. A woven composite that provides controlled break-up in the midrange, the technology is reported by the company to provide "a sweeter, more detailed midrange." The 700 Series also gets a new implementation of the low-frequency Aerofoil cone first seen in the 800 Series Diamond, providing improved bass performance over the previous CM Series 2 models.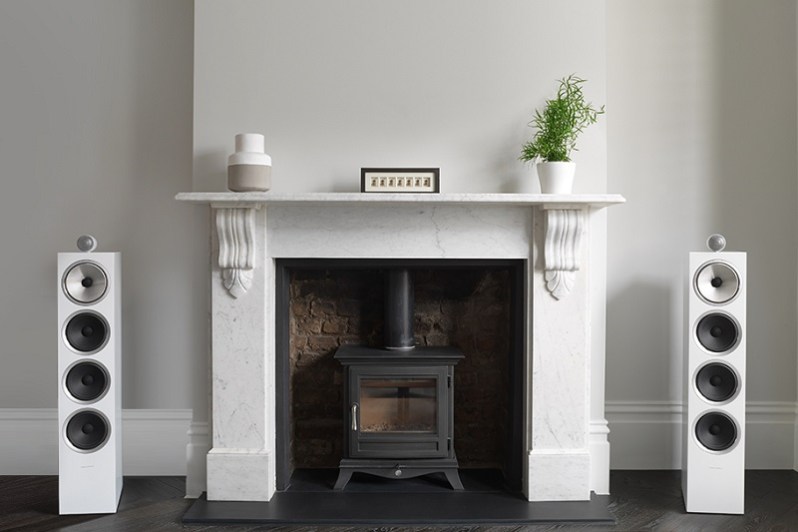 In addition to the tech that has trickled down from the 800 Series Diamond, the 700 series features brand-new tweeter technology developed by the company. Called the Carbon Dome tweeter, the high-frequency driver is designed to bridge the gap between the Aluminum Double Dome used in the more-affordable 600 Series and the Diamond Dome used in the 800 Series Diamond. The new tweeter is reportedly extremely stiff and resistant to distortion, offering great clarity and definition to the high frequency spectrum. The fact that it's mounted above the main cabinet only serves to make these speakers more intriguing, if not a bit odd looking at the topside.
The trickle-down technology makes the 700 Series a much more significant upgrade over the previous CM Series 2 than meets the eye. Significant changes to the high, mid, and low frequency drivers should change the overall sound signature of each model in the 700 Series for the better, providing plenty of reasons for audio fans to consider an upgrade.
Prices for the 700 Series range from $600 each for the stand-mounted 707 S2 to $2,250 each for the floor-standing 702 S2 model. Those interested in purchasing a new set of 700 Series speakers for their listening room or home theater can learn more about the speakers and international retailers on Bowers & Wilkins' website.
A version of this post first appeared on our "brother site" Digital Trends.