September, glorious September: it's National Biscuit Month. A time when we spend 30 days truly appreciating the flaky, buttery, golden brown circles of dough that make mornings worth it. Now for a National Biscuit Month pop quiz! Which city is the biscuit capital of the world? If you guessed Natchez, Mississippi, go get yourself a victory biscuit! (Incidentally, it's also the Bed & Breakfast capital of the world, if anyone ever asks). The historic town, just 80 miles from Baton Rouge, is celebrating its 300th birthday with its first ever Biscuit Festival on September 24th. Arrange to drive, fly, or paddle down the Mississippi because this should not be missed. Plus, festival organizer Chef Regina Charboneau offers us her famous Butter Biscuit with orange marmalade recipe.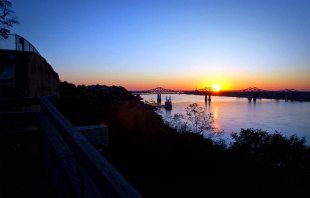 Natchez was founded in 1716 and still has a rich cultural mix of its original settlers: the Natchez people, later the French, Spanish, English, as well as the members of the Bambara tribe of west Africa brought over as slaves. Boasting the greatest number of antebellum houses anywhere in the United States, it's also the oldest continuous settlement on the mighty Mississippi. Plus, Conde Nast says it's the seventh friendliest city.
As if all that weren't enough, it's got biscuits, baby, and the festival to prove it. This is the inaugural festival and the people of Natchez are offering a helluva lineup. There will be a bake off, naturally, with three categories: Children's, Home Cooks, and Chefs. Each category will compete in both breakfast biscuits and the intriguingly named "most creative" biscuits.
Chef Bingo Starr and Chef Regina Charboneau will host biscuit demonstrations at 11 am, 1 pm, and 3 pm, offering up pro tips to making these doughy circles of heaven. Different restaurants will provide their spin on biscuits for tasting: among them, Chef Starr's incomparable Carriage House (on the grounds of the spectacular Stanton Hall) is serving up a Spicy Pimento Cheese biscuit, Chef Charbonneau's King's Tavern (which is possibly haunted) is cooking up a Chicken Pot Pie with bacon thyme biscuit crust, and the aptly-named Biscuits and Blues is offering up caramelized pears on a cinnamon biscuit.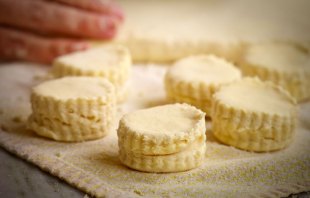 Perhaps the most exciting moment of the day will come at 2 pm when the Biscuit Queen will be chosen by the audience and then crowned. The title may conjure up a sweet, beautiful, simpering Southern Belle, but the committee behind the Natchez Biscuit Festival knows their true queen may come from an unexpected place. In their own words, because it's too wonderful to paraphrase: "Floozys may apply…but cute is cute- you can be 5 years old or 95 years old." And this is all while shoving sweet and savory biscuits in your face along the shores of the lolling Mississippi. The event is free and open to the public from 10 am to 6 pm on Main Street between Pearl and Wall streets. Is there a more perfect day?
The festival is the creation of Chef Regina Charboneau, native daughter of Natchez, who after years of culinary adventuring
from Alaska to Paris to San Francisco, authoring cookbooks and being the culinary director of the American Queen Riverboat, she returned home in 2001. She bought historic Twin Oaks, offering guesthouses and cooking classes that she teaches herself! She's also the owner of King's Tavern, which is the oldest (still standing) building in the Mississippi Territory and as stated earlier, is probably haunted.
If you tragically can't attend personally, Chef Charboneau has gifted us with her recipe for Butter Biscuits with orange marmalade butter to give you a taste of what you're missing.
Regina Charboneau Twin Oaks -Biscuit recipes
I prefer Calumet baking powder and Land O Lakes salted butter and salted margarine. Also note that freezing the biscuits before they're baked is essential—it adds to the flakiness, and they can be made ahead of time and kept for up to 2 months in the freezer.
Makes 2 dozen
4 cups all-purpose flour
1/4 cup baking powder
1/4 cup sugar
1/2 cup (1 stick) salted butter, chilled and cut into 2-inch cubes
1 1/2 cups (3 sticks) salted margarine, chilled and cut into 2-inch cubes
1 3/4 cups buttermilk, chilled
Put the flour, baking powder, and sugar in the bowl of a stand mixer. Turn the machine on low and blend the dry ingredients for 15 seconds.

Add the butter and margarine cubes and the buttermilk to the flour mixture before turning on the mixer. Turn the mixer on medium and count to ten. This goes very quickly; the key is to not overmix the dough. There will be large chunks (the size of quarters) of butter and margarine in the dough. That's just how it should be. Don't mix it any more. Once the dough is rolled and folded, it will become smooth.

Scrape the dough from the bowl onto a generously floured work surface and shape into a rectangle about 2 inches thick. Fold the dough into thirds and, with a rolling pin, roll the dough out to a 2-inch thickness. Fold it again into thirds, give the dough a one-quarter turn, and roll it out again to a 2-inch thickness. Continue folding, turning, and rolling the dough until it is smooth and the dough has yellow ribbons of butter and margarine. This is a sign that the biscuits will be flaky.

Roll the dough to 1 1/2-inch thickness. Using a 2-inch biscuit cutter, cut the dough into rounds. When rerolling the dough, gently stack it to retain the layers. Do not overwork the dough.

Place the biscuits on a baking sheet and freeze. Once frozen, transfer the biscuits to plastic bags. The unbaked biscuits can be frozen for 2 months.

To bake, preheat the oven to 350°F. Place however many frozen biscuits you want to serve in the cups of muffin tins Let thaw in the refrigerator for 20 minutes. Bake until golden brown, 23 to 25 minutes. Serve right out of the oven—biscuits are best freshly baked. Baking them in muffin tins is key, as it helps the biscuits keep their shape and get the perfect crispness on the bottom.
Orange Marmalade Butter
1/2 cup (1 stick) salted butter, at room temperature
3 tablespoons sweet orange marmalade
Put the butter and marmalade in a mini food processor and pulse to combine. (Alternatively, whisk together the butter and marmalade in a bowl.) Using a rubber spatula, transfer the butter to a decorative serving bowl.

Serve the butter with hot biscuits or other breakfast pastries.
The butter also can be spread onto a sheet of plastic wrap, shaped into a log, wrapped, and frozen. Bring to room temperature before serving, either on a butter dish or cut into thin slices.